YEOVIL NEWS: Wig-wearing Pete hands over £3,500 to the breast cancer care team at Yeovil Hospital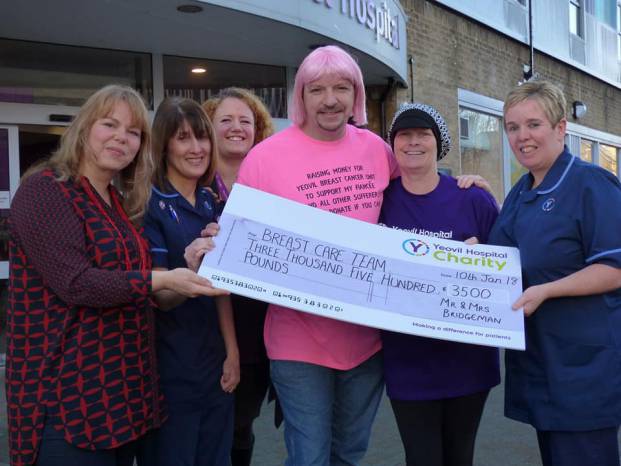 A MAN who wore a pink wig for several months to raise money and awareness about breast cancer has presented the results of his efforts to Yeovil District Hospital – a whopping £3,500.
Pete Bridgeman decided to don the wig for three months while his better-half Debbie underwent treatment for breast cancer.
The fundraising gathered pace and the original target was surpassed as people supported Pete and his wig-wearing antics.
"We'd like to thank so many people for being so generous and giving money to the cause," said Pete.
"Thank you all so much. Any money that is donated after this will still be forwarded to the hospital.
"Not bad for just wearing a wig for a few months and nothing in comparison to what so many people including Debbie have had to go through while fighting breast cancer.
"Hopefully this money will make things a lot more comfortable for the patients while they deal with this horrible disease."
Pete and Debbie got married just before Christmas and, of course, the pink wig had to make an appearance.
"I've still got a few weeks to go with the pink wig so please anyone who would like to donate just go to our online fundraising page."
Anyone wanting to donate can go to - https://www.justgiving.com/crowdfunding/pete-bridgeman .
PHOTO – TOP: Pete and Debbie Bridgeman hand over the cheque to members of the breast cancer care team at Yeovil District Hospital.
Tags:
News.