LEISURE: Yeovil Mayoral couple line-up five fab fundraising events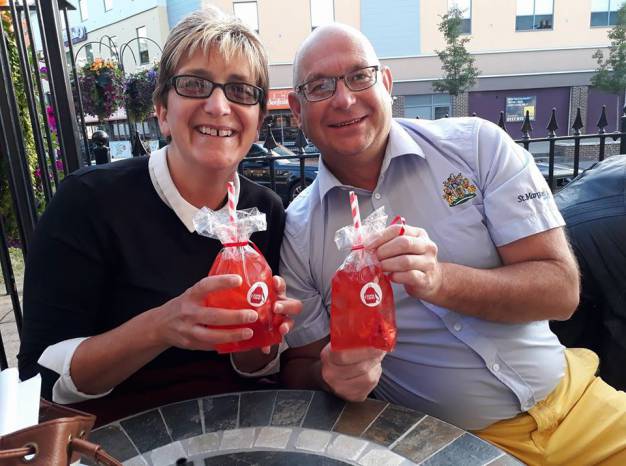 THE Mayor and Mayoress of Yeovil, Cllr Darren Shutler and his wife Anna, are hoping to end their two-year tenure in the roles on a high in the opening months of 2018 with five fantastic fundraising events.
Cllr Shutler will see his term as Yeovil Mayor come to an end in May 2018 after two successful years in which he has been raising money for St Margaret's Somerset Hospice and the School in a Bag initiative which is part of the Piers Simon Appeal.
He now has five charity events lined-up to conclude his fundraising – starting off on Monday, January 29, 2018, with a CURRY NIGHT at the Viceroy at 100 Middle Street, Yeovil, from 7pm. Tickets are priced £18 and include a starter, main, rice, naan and dessert.
On Saturday, February 17, 2018, there will be a GIN & MORE TASTING NIGHT at Majestic Wines in Sherborne Road, Yeovil, from 7pm. Tickets are priced £10 each and people can go and try a selection of different gins and other drinks.
A CALL MY AUCTION BLUFF NIGHT will be hosted on Thursday, March 22, 2018, at St Margaret's Hospice Home Store at the Old Cinema in Yeovil from 7pm. Tickets are £10 each and includes a ploughman's supper. The light-hearted and entertaining evening will see people pit their wits against the devious experts from Bearnes, Hampton and Littlewood Auctioneers of Exeter trying to work out what items are valuable and what are not.
The fundraising moves to the Octagon Theatre in Yeovil on Thursday, March 29, 2018, with a JUKEBOX TIME MACHINE CHARITY CONCERT featuring entertainment by local talented groups and music by Joe Hardy and Bertie's Big Band. Tickets are priced £10 each and available from the Octagon box office on 01935-422884 or www.octagon-theatre.co.uk .
The Mayor's final charity event of his two-year term of office will be held on Monday, April 16, 2018, from 7pm at the Nuova Italia restaurant in Ilchester with an ITALIAN NIGHT. Tickets are priced £20 each and include a four-course meal.
For further information and tickets about any of the events please email darrenshutler@googlemail.com or phone 01935-848768 or (mobile) 0742-515-6591.
PHOTO – TOP: The Mayoress, Anna Shulter, and her husband Yeovil Mayor, Darren Shutler.
Tags:
Leisure.