YEOVIL NEWS: Marathon bag-pack gives hope to 201 children around the globe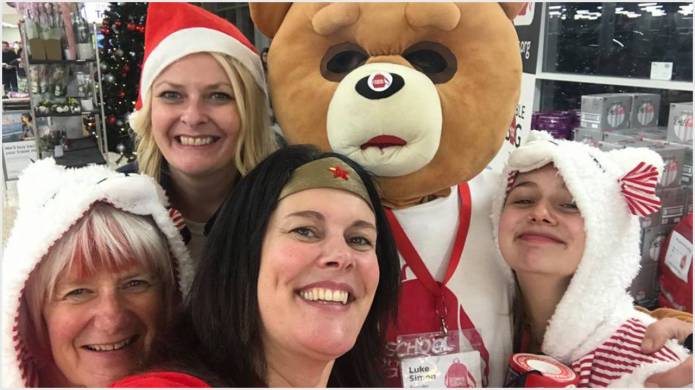 AN annual charity bag-pack at the main Tesco store in Yeovil in the run-up to Christmas raised more than £4,000 for the School in a Bag initiative.
Organisers of the event held on Saturday, December 23, 2018, have just announced that a grand total of £4,036.35 was raised on the day which saw an army of 140 volunteer bag-packers help shoppers for a marathon 18 hours.
"Thank you to everyone who came and helped, to all those who donated and to all the Tesco staff who were fantastic throughout the 18 hours," said School in a Bag chief executive Luke Simon on Monday (January 8, 2018).
"This is a big boost for us and was a great way to end the year. It also proved once again the incredible generosity the Yeovil area has shown us throughout the past year."
Organisers would like to thank groups of bag packers from Preston School, Westfield Academy, AWASA, Inner Wheel Club of Yeovil, Rotary Club of Yeovil and Rotary Club of Yeo Valley as well as all the individuals and families who came along to help and those who did way and above the call of duty on the hours front – mainly Mr Sweet from Preston School, Keith and Caroline.
School in a Bag is part of the Piers Simon Appeal which was first set-up in memory of former Yeovil College and Preston School student Piers Simon, 33, who was among the 250,000 people who were killed as a result of the devastating Boxing Day Asian Tsunami in 2004.
Tens of thousands of SchoolBags have been distributed to children living in war-torn, disadvantaged and countries hit by natural disasters around the globe. Each bag contains useful school equipment such as books, pens and pencils, as well as eating utensils – things the children would not normally have.
Each bag costs £20 to fund and so the donations raised during the marathon bag-pack at Tesco have helped to fund 201 SchoolBags – giving hope to 201 children somewhere in the world.
For more details about School in a Bag log onto http://www.schoolinabag.org/ .
PHOTO – TOP: Members of the School in a Bag team at the main Tesco store in Yeovil.
Tags:
News.