LEISURE: Octagon panto favourite Lizzie is left speechless with special award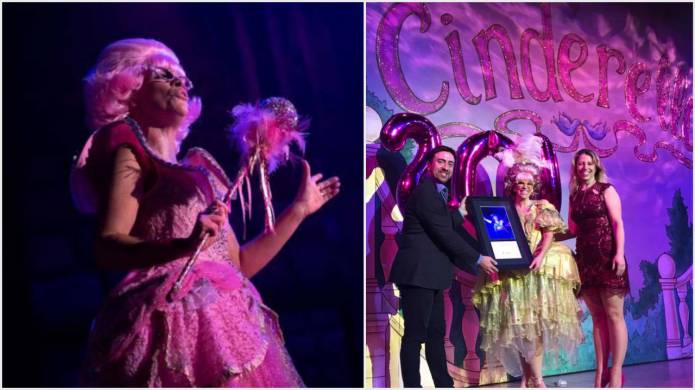 POPULAR Octagon Theatre panto star Lizzie Frances was left speechless on Saturday (December 30, 2017) when she was presented with a special award having chalked up 200 performances on the stage of the award-winning Yeovil theatre.
Lizzie has been wowing the audiences at the Octagon over the festive season as the Fairy Godmother in the awesome panto production of Cinderella.
This is her fifth panto season at the Octagon having played three roles – Mrs Darling, Myrtle and Big Chief – in Peter Pan in 2016.
Lizzie, who is the founder and principal of a Dorset-based drama school Pure Drama, first appeared at the Octagon panto back in 2007 as Fairy Beansprout in Jack and the Beanstalk.
She then appeared in 2012 as the brilliant Spirit of the Ring in Aladdin before taking a few years out before returning in 2015 as Fairy Moonbeam in Sleeping Beauty.
Lizzie said she loves panto and that the Octagon is her favourite theatre "in the whole wide world" because of the real family atmosphere which is created and the fact that everyone involved is so passionate about pantomime.
An Octagon Theatre spokesman said: "We celebrated Lizzie's fantastic milestone of more than 200 performances on the Octagon stage with a special presentation during the finale."
Lizzie said: "For once I was speechless – such a special moment and shared with my dear friends at the Octagon Theatre.
"Thank you for having me. I love you all."
And Lizzie – despite notching up 200 performances at the Octagon – will be coming back for more in the theatre's 2018-19 pantomime of Aladdin where she will rekindle her Spirit of the Ring character.
The current run of Cinderella continues until Sunday, January 7, 2018. Phone 01935-422884 or go to www.octagon-theatre.co.uk regarding ticket availability.
PHOTO – TOP LEFT: Lizzie Frances in action as the Fairy Godmother in Cinderella.
PHOTO – TOP RIGHT: Lizzie Frances (centre) receives her special award for more than 200 Octagon performances from theatre manager Adam Burgan and Emily Wood, of Evolution Productions.
Tags:
Leisure.