YEOVIL NEWS: Westfield gets a £500k National Lottery windfall for new community centre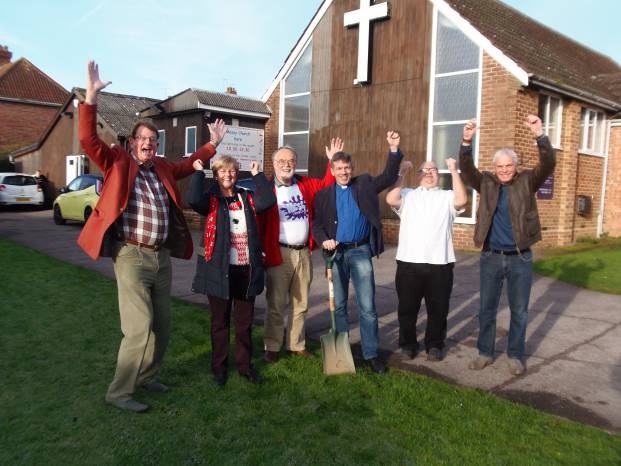 THE Westfield estate in Yeovil has been given an early Christmas present – a whopping £499,999 grant from the National Lottery towards the cost of a new community centre.
The near £500,000 windfall has been won from the Big Lottery for a new community centre behind St Peter's Church in Coronation Avenue.
A letter from the Lottery's Reaching Communities (Buildings) Fund has been received announcing that the project team's bid for £499,999 had been approved.
The award is conditional on the submission within the next six months of a satisfactory business plan and capital project delivery plan.
Over £50,000 can be released immediately to start work on surveys, planning permission and other risk-reduction measures.
The new community centre for Westfield is a joint venture St Peter's Church, who run the existing church hall, which will be replaced by the new centre, the Westfield Community Association and South Somerset District Council which has helped the community form a regeneration plan including the new centre by awarding grants and allocating officer time for more than ten years.
The project team for the new centre is led by Rev David Keen, of St Peter's, and includes Cllr John Clark, of South Somerset District Council, who represents the community association, the council neighbourhood officer James Divall, Cllr Pauline Lock, of Yeovil Town Council, and other representatives of the church and community including Yarlington Housing Group with skills and experience relevant to the project.
The project team had earlier appointed local firm Boon Brown Architects to manage the procurement and the delivery of the demolition and build contract, and they also assisted considerably with the Lottery bid.
Rev Keen, of St Peter's Church, said: "This new centre has been a dream for over ten years – now we can make it a reality.
"The St Peter's Hall has served Westfield well since the 1960s, but this is a great opportunity to give the area a wonderful facility that everyone can use.
"It's been great to see the church, council and community coming together to make this happen. The phrase is over-used, but this grant is a game-changer."
Cllr John Clark added: "This was a huge team effort. There is still over £300,00 to raise, but with this fantastic grant we can say with certainty that the community centre that Westfield needs and deserves will now be built, hopefully within the next two years."
Tags:
News.