YEOVIL NEWS: Rosie's light design helps to illuminate Yeovil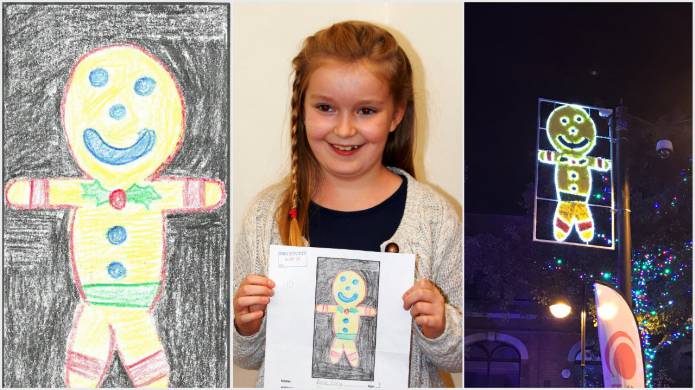 MEMBERS of Yeovil Town Council had a very tough choice in deciding the winning design for its Children's Christmas Light Design competition.
Children between the ages of five and 12, who live in and around Yeovil, were invited to design a Christmas Light, with the winning design being made into a light and displayed as part of the new festive lighting scheme for 2017.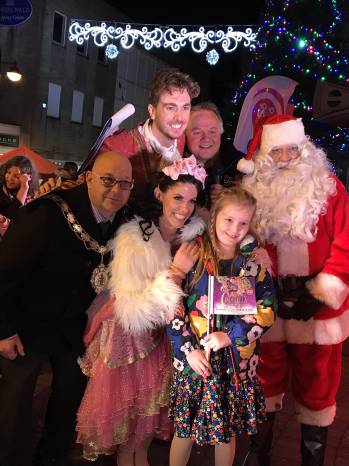 The winner of the Christmas Light Design Competition for 2017 was named as nine-year-old Rosie. She designed a handsome gingerbread man.
The design has been made into a light and can be seen on show in the Entertainment Area in Middle Street, in the town centre.
Rosie also switched on the Christmas Lights in Yeovil on Saturday, November 18, 2017, with the Mayor of Yeovil, Cllr Darren Shutler, Santa and characters from Cinderella, the Octagon Theatre's pantomime for 2017.
Chairman of the town council's promotions and activities committee, Cllr David Recardo, said: "We had many amazing entries, but chose Rosie's gingerbread man. The light looks fantastic.
"The competition will be ran again next year, so we want as many children to get involved with that competition as possible for the chance of seeing their design come to life and be on display in the Town Centre over the festive period."
Amanda Card, town clerk and treasurer of the Love Yeovil marketing group, said: "The Christmas Lantern Parade and Light Switch-On was a fabulous event with a wonderful atmosphere."
Organisations involved in this event included Yeovil Town Council, South Somerset District Council, the Love Yeovil Marketing Group, Quedam Shopping Centre and many more commercial and voluntary organisations.
Work for the Christmas lights started in February and the town council worked with the supplier to deliver a new light scheme to Yeovil this year.
Different themes have been introduced to the different streets in the Town Centre and there really is something for everyone.
This year the town boasts a 28ft Norwegian Spruce, which looks amazing dressed with lights.
Tags:
News.