YEOVIL NEWS: Hospital colleagues get recognition they deserve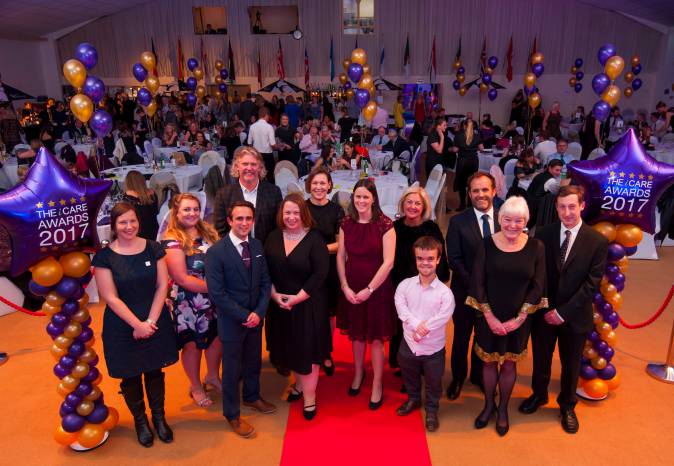 NEARLY 300 members of staff, volunteers and their guests celebrated their award-winning colleagues on a night to remember at the Yeovil Hospital iCARE Awards 2017.
The iCARE Awards are the hospital's annual staff awards and recognise and reward excellence among Yeovil Hospital staff and volunteers who make such a positive impact on people's lives.
There were eight award categories presented ranging from the Long Service Awards for those who have worked at the hospital for 30 and 40 years, to the Rising Star of the Year Award.
More than 150 nominations were received from patients, members of the public and colleagues keen to highlight the amazing work the hospital's staff do day in and day out.
In the iCARE Excellence Award category fellow colleagues voted for the winner and Ivan Rendell, theatre care assistant was crowned the winner on the night!
Yeovil Hospital chief executive Paul Mears, who hosted the awards alongside medical director Dr Tim Scull, said: "The iCARE Awards night is a really important event in the hospital calendar; an opportunity to pause and reflect on the exceptional work taking place across the hospital every day and the difference our staff and volunteers make to the lives of our local population.
"Every award we present, every highly commended place, and in fact every nomination is testament to the fact that we do some really special, really worthwhile work in our hospital and across Somerset.
"We would also like to thank the companies who sponsored the iCARE awards allowing us to recognise and celebrate the work of our staff in this way."
The awards were sponsored by Interserve Prime, Ambulatory Surgery International, Medical Staffing, Bevan Brittan and Dorset Digital Print.
This year winners and highly commended places were awarded to: Leadership Award: Winner: Ian Creek, Head of Projects, Symphony Healthcare Services. Highly Commended: Sarah Nurrish, Senior Sister, Ward 8A.
Pioneer Award: Winner: Julie Reeve, Nurse Consultant Emergency Medicine. Highly Commended: The Contact Centre and Outpatients, Leigh Beard - Resuscitation Officer and Scott Godley - Project Manager.
Volunteers Award: Winner: Bob Norbury, Stroke and fundraising volunteer. Highly Commended: The Chaplaincy Volunteer Team.
Team of the Year Award: Winner: The Cooksons Court Therapy Team. Highly Commended: The Complex Care Team, The Volunteer team.
Patient Award: Winner: Emily Whaites, Children's Community Nurse. Highly Commended: Yvonne Moul – Senior Respiratory Nurse Specialist, The Outreach Team & ITU Department.
Lifetime Achievement Award: Winner: Sharon Tucker, Housekeeping and Domestic Supervisor. Highly Commended: Janine Valentine, Nurse Consultant, Dementia and Care of Older people.
Rising Star of the Year Award: Winner: Natasha Bath, Booking Officer in the Contact Centre. Highly Commended: Angela Turner, Operational Resilience Support & Patient Transport Manager.
iCARE Excellence Award: Winner: Ivan Rendell, Theatre Care Assistant; Highly Commended: Natalie Coombes, Maternity Support Worker.
Long Service Awards: 30 years' service: Delia Coward, Barbara Shilvock, Gina Galway, Mandy Carney, Tracey Turk and Deborah Hockley.40 years' service: Dawn Thornton and Edward Voizey.
PHOTO – TOP: The winners of the Yeovil Hospital iCare Awards 2017 with medical director Dr Tim Scull and chief executive Paul Mears.
Tags:
News.