YEOVILTON LIFE: Wrens celebrate 100 years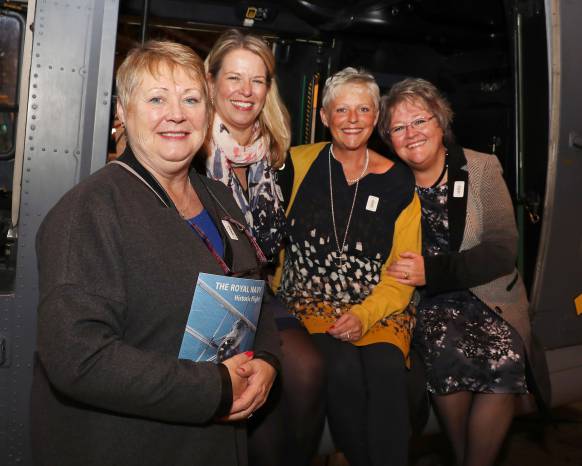 THE Royal Naval Air Station Yeovilton has commemorated 100 years since the Women's Royal Naval Service was formed.
At one of the largest gatherings nationally, Yeovilton hosted 250 ladies to celebrate WRNS 100 with some travelling from as far as Australia and Canada to participate.
With the youngest attendee at 25 and the oldest a spritely 94, it was wonderful to see them all come together at Royal Navy Historic Flight where the only Flying Mk1 Swordfish aircraft stood side by side with the Royal Navy's newest aircraft The Wildcat,  representing the past , present and future.
All of the serving and ex-serving women of the Royal Navy enjoyed a cream tea before partaking in a tour of the hangar and a chance to revel in RNAS Yeovilton's rich history of which many have been part. Stories were exchanged, old friendships rekindled and new ones made.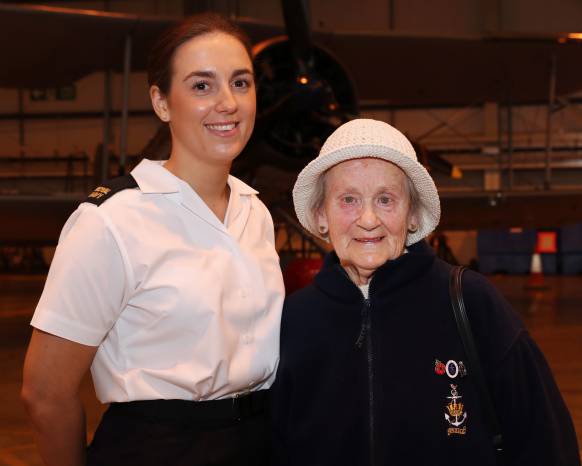 The ladies gathered in the evening to continue celebrations with a formal dinner in the Senior Rates' mess in company of Commodore Inga Kennedy, the most senior female officer in the Royal Navy.
The oldest lady at the event was Connie Gregory, 94, the youngest was 25-year-old medical assistant Amy Meadows.
PHOTO - TOP: Rona Marsden, Gilly Walker, Judith Kent and Sue Capocci.
PHOTO - RIGHT: Connie Gregory, 94, and 25-year-old medical assistant Amy Meadows.
Connie, from Bristol, was definitely drawing a crowd at the WRNS 100 event, not just for her sprightliness at 94 but also the fact that she plays the piano every week on Brunel's SS Great Britain and onboard at 91 she climbed 15 rungs of rigging of the former passenger steam ship.
Connie, who last year climbed to the top of Vesuvius, said: "It's lovely to be here - WRNS 100 is a very special year.
"I joined as an Officer's Steward in 1943, but was discharged in 1944 as I got married - something I know doesn't happen these days! If I were in the Royal Navy now I'd have a ball!
"Although my time was short I enjoyed every breath of it and events like today are super, everybody is so lovely. Absolutely wonderful here today I am enjoying every moment, thank you for having me."
The commemorations continued in the Fleet Air Arm Museum where a church service was conducted on the simulated flight deck of the aircraft carrier and readings made by some of the younger currently serving females from RNAS Yeovilton.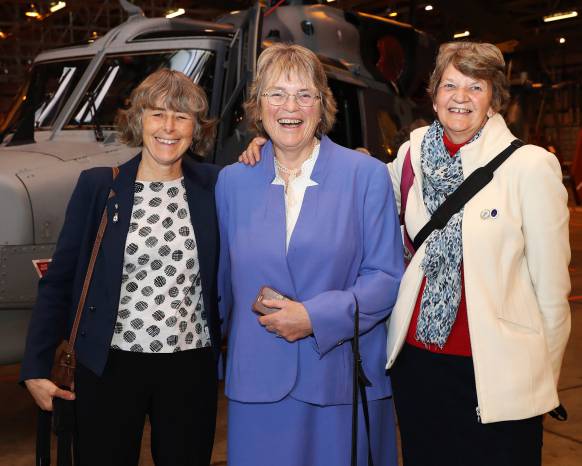 PHOTO - ABOVE: Pam Shadbolt, Jeniffer Cope and Janet Walters.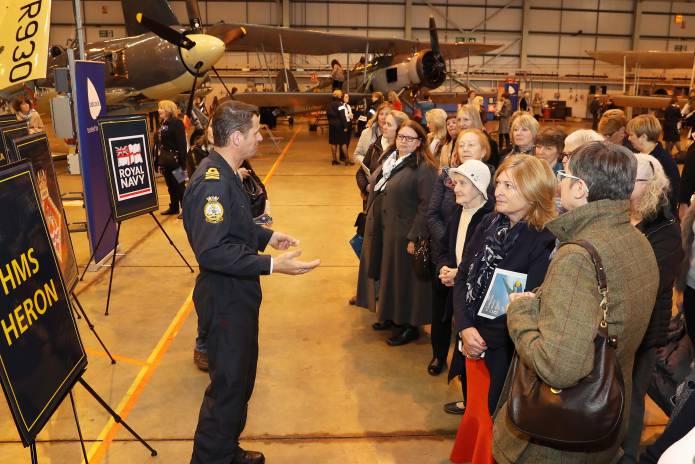 PHOTO - ABOVE: Lieutenant Commander Gotke addressing those assembled for the WRENS 100 event at RNAS Yeovilton.
Tags:
News.