SCHOOL NEWS: Congratulations to Preston School's Class of '17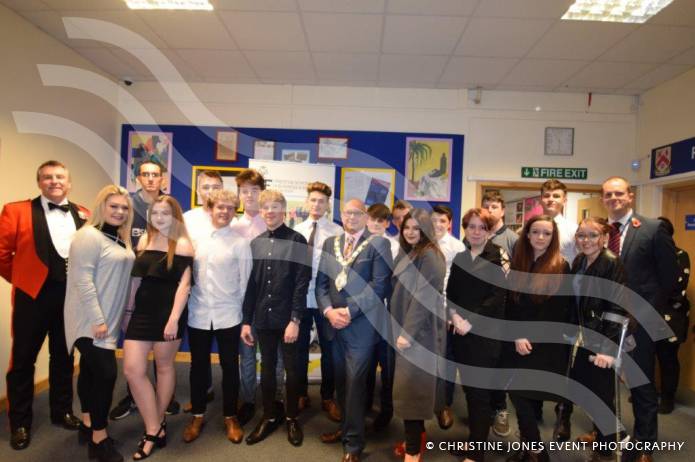 A NIGHT of celebration was held at Preston School in Yeovil during its annual presentation evening for school leavers.
Students who left Preston earlier this year returned to the school to meet up with their former classmates and teachers and were joined by family members for the presentation of awards.
Special guests at the event were Brigadier Darren Cook, plus Cllr Darren and Anna Shutler, the Mayor and Mayoress of Yeovil.
The chairman of Brympton Parish Council, Cllr Barbara Appleby, was present along with Debra Scarratt and Simon Shewry, from Yarlington Housing Group.
Preston School physical education teaching legend John Flatters was also on hand to present an award, as were family members of the late Jeff Stone, a well-known history teacher who died earlier this year following a teaching career which spanned nearly five decades.
School principal Gregg Morrison welcomed everyone to the presentation night and congratulated the students on their achievements, while the reading of names and citations were made by vice principal Clare Marsh.
Talented performer, student Anastacia Hayward, sang Don't Stop Believing as the musical interlude part of the proceedings.
Students were presented with various subject awards, GCSE certificates and special awards.
A vote of thanks was given by Lauren Bridges and Antony Floyd, the former head girl and heady boy of the Class of '17.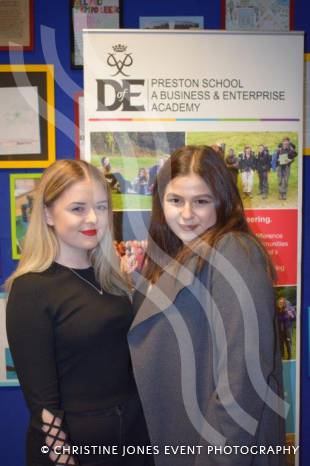 PHOTO - TOP: Some of the Class of '17 join with Preston School principal Gregg Morrison (right), special guest Brigadier Darren Cook (left) and the Mayor of Yeovil, Cllr Darren Shutler (centre), ahead of the school's presentation evening for school leavers.
Subject award winners: Art – Sophia Johns and Lauren Harris; BTEC Business – Ben Curtis and Lauren Bridges; GCSE Business – Etienne Hocking and Courtney Randino; GCSE Dance – Yasmin Dodge, Rebecca Pritchard and Hazel Luscombe; Drama – India Courtenay and Caitlin Hackett; English Language – Lochana Chandra Sekaran and Katie Wiles; English Literature – Petar Genov and Andreea Dumitrascu; ICT – Tom Barnes and Sanaa Robertson; Mathematics – Natalia Pakulska and Shamik Jha; Music – Bethan Foster and Antony Floyd; Physical Education – Ben Weatherill and Sophie Leeke; Physical Education GCSE – Billy Wintersgill and Lewis Lightfoot; French – Alex Ewen and Wiktoria Kowalewska; Geography – Gabrielle Cross and Fahima Shah; History – Hannah Atkin and David Newman; Italian – Sam Fuller and Cohban Salter; Philosophy and Ethics – Samantha Gaadza and Muhammad Harris; Spanish – Ryan Farrand and Charlotte Fisher; GCSE Catering – Beth Vincent and Lucy Ham; GCSE Child Development – Cody O'Sullivan and Holly Abbott; Electronics – Emman Aldovino and Samuel Jarvis; Product Design – Jonathan Adams and Louis Short; Textiles – Chloe Summers and Shannan Reeves; Additional Science – Emily Shackell and Reef Handy; Biology Award – Megan Adkins and Hermione Farmer; Chemistry Award – Ethan Dewberry and Anthony Chiu; Core Science – Harrison Ashby and Stephen Finlayson; Physics Award – Stanley Waldron and Oliver Kirby;
Special award winners: The Preston Drama Award – Ryan Farrand; The Preston Music Award – Antony Floyd; Girls Overall Sporting Achievement – Hannah Atkin; Boys Overall Sporting Achievement – Josh Thomas; Business & Enterprise Awards – The Chartered Management Institute Award – Mackenzie Parsons; Business & Enterprise Awards – Enterprise Award – Owen Kerrigan; Business & Enterprise Awards – Business Studies – Amy Ridger; Business & Enterprise Awards – ICT – Tommy Bowditch; Business & Enterprise Awards – Maths – Rebecca Pritchard; Outstanding Contribution to Year 11 Award – Megan Adams; Year Award – Lauren Bridges; Outstanding Progress Award – Muhammad Harris; Outstanding Academic Achievement Award – Katie Wiles; Achievement for All Award – Louis Short; The Brympton Parish Council Award – Petar Genov.
Students Attaining GCSE Certificiates: Holly Abbott; Jonathan Adams; Megan Adkins; Emman Aldovino; Joe Allen; Hamish Amor; Luke Aplin; Martin Arabov; Harrison Ashby; Hannah Atkin; Ethan Axe, Summer Bambury; Abby Barford; Harry Barlow; Tom Barnes; Aaron Bartlett; Jessica Beckett; Matt Bennett; Andrea Berbel Torres; Nuna Berbel Torres; Jada Beresford; Mickael Beven; Lauren Blackmore; Jordan Blair; Adam Bonner; Jack Borland; Will Boucher; Tommy Bowditch; Tom Bowers-Cook, Jorden Bowles; Ellen Bowring; Lauren Bridges; Melissa Bromblev; Laura Bunce; Lauren Burlinson; Lewis Burton; Lochana Chandra Sekaran; Owen Chick; Antonio Chis; Anthony Chiu; Jack Cobb; Leah Cocking; Aaron Cole; Edward Compton; Mollie Cook; India Courtenay; Gabrielle Cross; Ben Curtis; Jake Damon; Josef Davies; Toby Davies; Melissa Davis; Katy De-Maria; Ethan Dewberry; Millie Ditch; Matthew Doble; Yasmin Dodge; Lauren Duffett; Andreea DUmitrascu; Oliver Edwards; Matthew Emery; Finn Enticott; Phoebe Evans; Alex Ewen; Dan Ewens; Kayleigh Fahey; Hermione Farmer; Beka Farmiloe; Ryan Farrand; Stephen Finlayson; Liam Flatt; Antony Floyd; Charlie Ford; Bethan Foster; Charlotte Foster; Josh Fulcher; Sam Fuller; Samantha Gaadza; Byron Garry; Logan Gartshore; Thomas Gaylard; Petar Genov; Ela Gilder-Stevens; Emma Greenaway; Caitlin Hackett; Katie Hallett; Will Hallett; Lucy Ham; Isaac Hammond; Reef Handy; Muhammad Harris; Lauren Harris; Matthew Harris; Grace Harvey; Amy Haynes; Thomas Helyar; Millie Hesketh; Kayleigh Shotton; Max Hinds; Jack Hirst; Etienne Hocking; Ben Howard; Matthew Hutchings; Mark Jarvis; Samuel Jarvis; Shamik Jha; Sophia Johns; Paul Johnson; Robbie Jones; Oliver Kemp; Owen Kerrigan; Oliver Kirby; Wiktoria Kowalewska; Evia Lawrence; Sophie Leeke; Joshua Levey; Lewis Lightfoot; Kane Loads; Sophie Long; Hazel Luscombe; Dylan Lyons; Eryk Majewski; Connor Manley; Emily Martin; Lauren Martin; Katie Barnes; Lee Midwinter; Connor Moon; Joel Mumford; Alex Murphy; Anele Ncube; Georgia Nelson; David Newman; Louise Njescierowicz; Chloe O'Shea; Libby Osmond; Cody O'Sullivan; Katie Owsley; Natalia Pakulska; Holly Parsons; Mackenzie Parsons; Daniel Passmore; Joshua Phillips; Bayley Pitman; Bethany Pomerov; Rebecca Pritchard; Harry Pundyke; Chloe Quirke; Courtney Randino; Shannon Reeves; Molly Richards; Amy Ridger; Alex Rigg; Sanaa Robertson; Jack Ross; Cohban Salter; Sophie Scott; Metin Sen; Hannah Seymour; Emily Shackell; Fahima Shaha; Jake Shoemark; Louis Short; Alex Singer; Aleksandra Skrzyniecka; Jack Slicker; Marie Stunell; Chloe Summers; Nicole Summers; Willow Symes; Lauren Symonds; Matti Szwarc; Leon Tandy; Lauren Tavener; Josh Thomas; William Threadpold; Sam Thurgood; Meg Tucker; Alex Underwood; Samuel Vase; Beth Vincent; Ben Weatherill; George Weston; Katie Wiles; Abbie Williams; Jessie Williams; Oliver Wilson; Billy Wintersgill; Isobel Woodham; Lewis Woolacott; Taylor Yeo.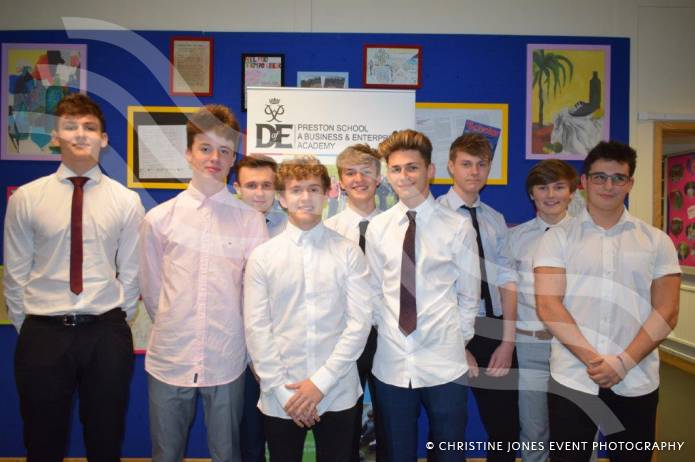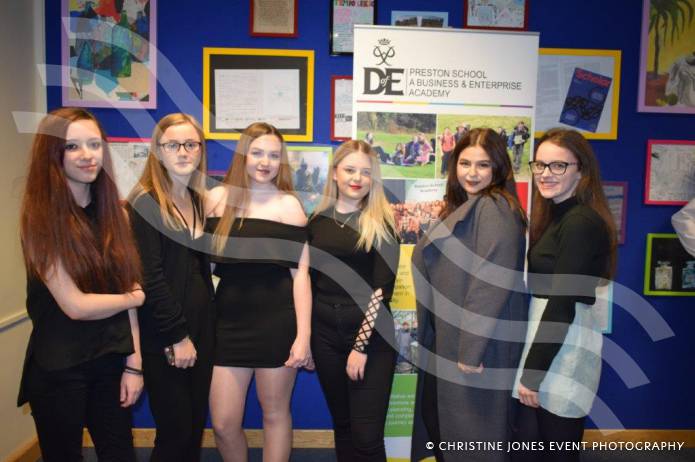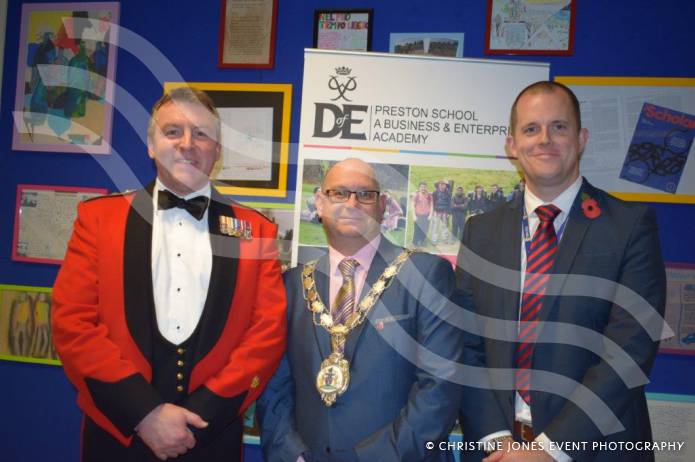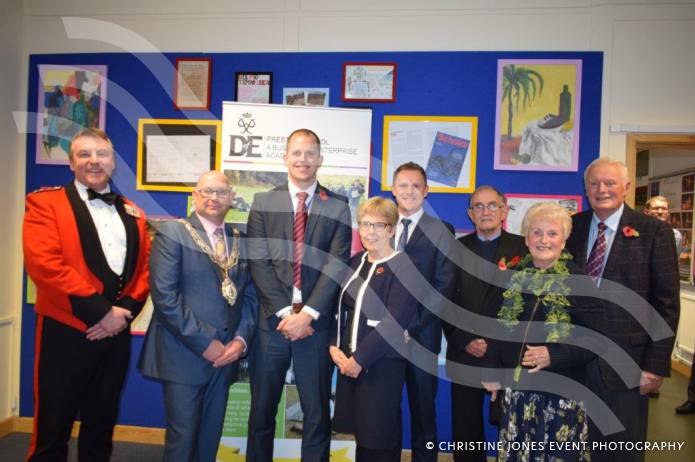 PHOTOS: Taken ahead of Preston School's presentation evening for schoo leavers on Thursday, November 9, 2017.
Tags:
Schools and Colleges.