YEOVIL NEWS: Air ambulance charity thanks veteran volunteer Jim Burrows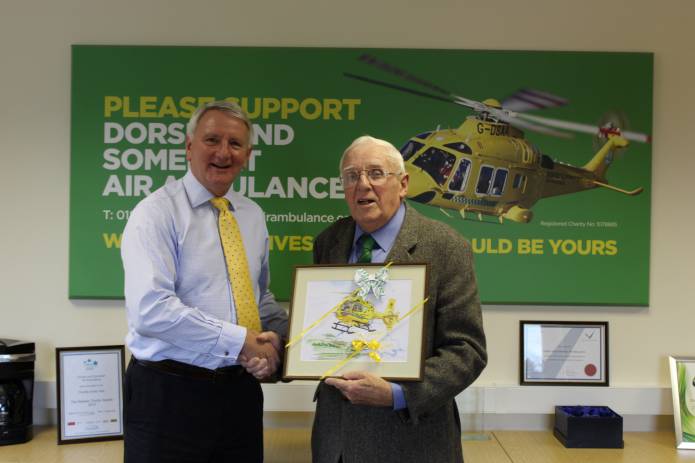 THE Dorset and Somerset Air Ambulance charity has paid tribute to one of its longest serving volunteers, Jim Burrows, after he retired from his duties earlier this month.
Jim has been a stalwart member of the charity's volunteering team for over 13 years and during that time has been a key figure in helping to develop and maintain links with individuals and groups in the Yeovil area.
Over the years, Jim has given countless talks to a wide variety of groups and helped to spread the word about the charity and its work.
He also took on responsibility for servicing over a hundred collection boxes, located in and around the local community; quite a physical task that also requires great attention to detail.
Throughout his volunteering work he has been ably supported by his wife Wyn and in a brief ceremony, charity staff thanked them for all they have done to help make Dorset and Somerset Air Ambulance a household name, particularly in the Yeovil area.
Bill Sivewright, Dorset and Somerset Air Ambulance chief executive officer, said: "Volunteers like Jim do not come along every day and he will certainly be missed.
"He has helped us to establish a firm foothold in the Yeovil community and a body of support that we are very proud of.
"Of course, we could not possibly say goodbye to Jim without also recognising the huge part that Wyn has played in helping Jim to fulfil his role as a volunteer.  We wish them both a very happy retirement."
With a small team of staff, Dorset and Somerset Air Ambulance relies on volunteers to help them in a variety of ways.
These include servicing collection boxes, giving talks, attending events or representing the charity at cheque presentations to name a few.
If you would like to find out how you can support us in this way, please call 01823-669604 or email: info@dsairambulance.org.uk .
PHOTO – TOP: Long-standing volunteer Jim Burrows (right) with Dorset and Somerset Air Ambulance chief executive officer Bill Sivewright.
Tags:
News.