YEOVILTON LIFE: Hurricane heroine Amy looking forward to coming home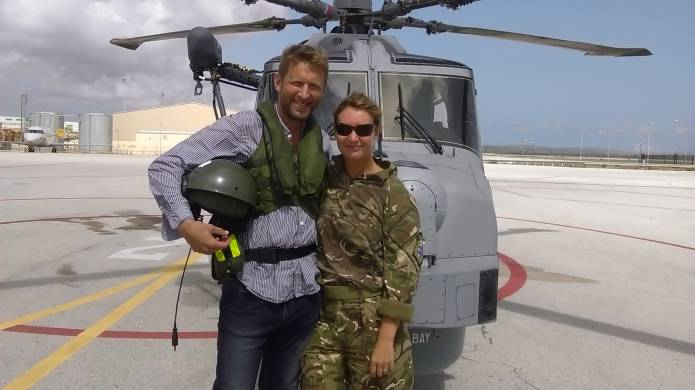 HELICOPTER flight commander, Lt Amy Gilmore, is looking forward to returning to the UK after swapping her quite village home life for the more dramatic landscape of flying rescue missions over hurricane devastated Caribbean islands.
Lt Gilmore Royal Navy's Wildcat helicopter left RNAS Yeovilton in May this year where she and her team of engineers and operators based themselves on ships, RFA Wave Knight and then RFA Mounts Bay, close to British overseas territories in the Caribbean in anticipation of the annual hurricane season.
She has been at the front of the UK's rescue efforts since devastating hurricanes Imra, Katya and Jose struck the area in early September, helping British dependencies with their rescue efforts.
And Amy said: "With two of the most powerful recorded hurricanes hitting the islands in short order, it has been a terrible time for all the people out here.
"Whilst this has been the most demanding flying I have ever conducted, it has also been the most rewarding.
"We have been able to make a real difference in helping the local people recover from the devastation these hurricanes have caused.
"I've been involved in disaster relief previously, but nothing I've seen before compares to this.  The British Virgin Islands have been particularly hard hit, and I really hope they are able to get themselves back on their feet soon."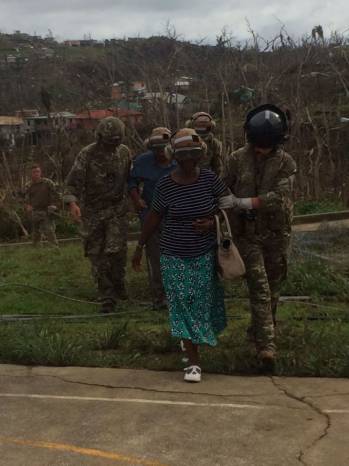 Manufactured in Yeovil, her Wildcat helicopter has been invaluable in conducting initial damage assessments, search and rescue missions, opening up local airports and load lifting tonnes of much needed food and water into isolated parts of the islands.
PHOTO – TOP: Flight Commander Lieutenant Amy Gilmore Royal Navy with her husband Steve and Wildcat helicopter in Curacao before disaster struck the Caribbean.
PHOTO - RIGHT: Amy leads vulnerable residents of Dominica to safety.
More powerful than its Lynx predecessor, the Wildcat is also very nimble and is able to squeeze into areas which larger aircraft would not be able to get to.
Lt Gilmore added: "With over 90 flying hours in September this has made a phenomenal contribution to the wide range of rescue work we have been able to provide."
One spectacular rescue mission saw Lt Gilmore and her team safely winch a mother and two children from the hull of a capsized merchant vessel.
Lt Cdr Steve Gilmore, Amy's husband, who also serves in the Royal Navy, said:  "I'm truly astounded, inspired and a little bit jealous of all that Amy and her team have achieved over the past month.
"I'm lucky to have the inside story on their heroic work and throughout she has been a driving force in ensuring they did all they could to help the victims of the hurricanes.
"I couldn't be more proud!"
As the area stabilises Lt Gilmore will return home after her busy seven months away.
"I'm looking forward to getting back to the village in time for Christmas," she said.
Tags:
News.