SOMERSET NEWS: Unicyclist Ed really is the Wizard of Oz!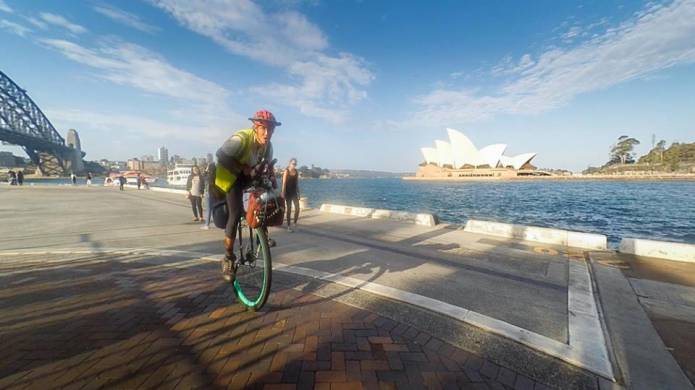 ROUND-THE-WORLD unicyclist Ed Pratt has successfully cycled on one wheel across Australia in just three months as part of his global fundraising adventure in support of the School in a Bag organisation.
Ed is currently on an 18,000-mile cycle ride to raise money for School in Bag which provides school equipment for children in poor countries around the globe. Each school bag provides a child with exercise books, pens and pencils, a maths set, a lunch box and drinks bottle.
It was back in March 2015 that Ed set off on his amazing trip-of-a-lifetime from Home Farm in Chilthorne Domer, near Yeovil, the headquarters of School in a Bag on his 36-inch Nimbus Oracle unicycle heading up the north coast of France to the Netherlands, then across Europe through China and down through south-east Asia before heading to Australia.
Now that Australia has been completed, Ed is next heading for New Zealand and then onto the United States of America.
"It's always a thrill to complete a unicycle crossing of a country, and being so massive, Australia was certainly no exception," said Ed who lives at Curry Rivel in South Somerset.
"But now 89 days after dipping my wheel in the Indian Ocean in Freemantle, I rolled past the famous Opera House and down to the base of the Harbour Bridge in Sydney.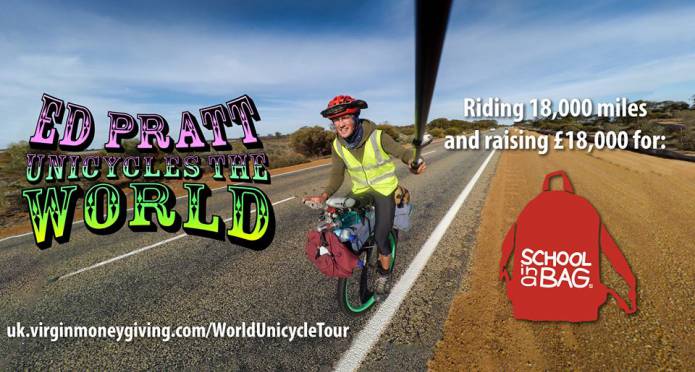 "I'd finally unicycled unsupported across Australia – 3,000 miles covered!"
Ed added: "This crossing is not only special to me because it was my first upside-down, but because it's been the fastest three months of my entire world trip.
"Don't get me wrong, it's by no means "fast" but it's a mental boost knowing that I'm capable of 3,000 miles in three months.
"I deliberately applied for a shorter three-month visa over a six-month one, wanting to ush myself to keep moving.
"It was tough, but having that pressure forced me to be very efficient with my time.
"I also wanted to speed this tour up as a whole with the rough plan of completing my circumnavigation by May 2018. This is obviously subject to change, but that's the pencilled-in date."
Ed said back in May this year that he was planning on being at School in a Bag's big fundraiser of the year in 2018 – the Home Farm Fest. So he has obviously got that in mind.
Ed originally set himself a target of raising £7,500 for School in a Bag, but he smashed through that and is now nearing £10,000. But he would love to reach £18,000 which would equate to £1 for every one mile cycled and would be the equivalent of 900 SchoolBags.
To make a donation go to Ed's Virgin Money Giving online page at http://uk.virginmoneygiving.com/fundraiser-web/fundraiser/showFundraiserProfilePage.action?userUrl=WorldUnicycleTour .
His official website is at http://www.worldunicycletour.com or you can follow him on Facebook at https://www.facebook.com/MrEdPratt .
Next year's Home Farm Festival at Chilthorne Domer near Yeovil is planned for June 8-10, 2018.
Tags:
News.