YEOVIL NEWS: Gigantasauras Burger is a proper mouthful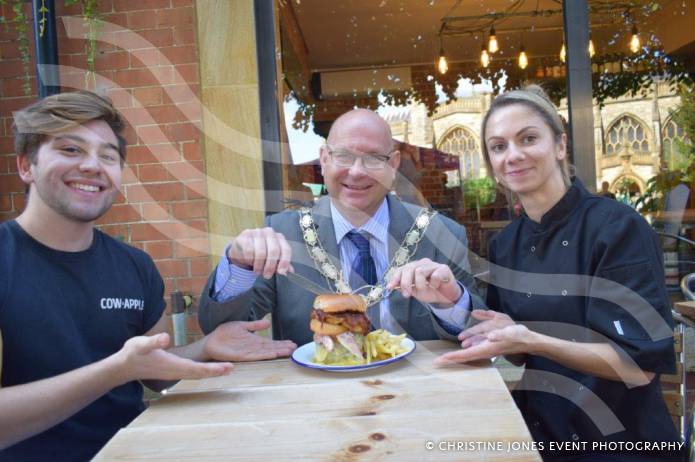 THE Mayor of Yeovil, Cllr Darren Shutler, could not resist the temptation to take a closer look at the Gigantasauras Burger which was available at the Cow & Apple restaurant on Saturday (September 23, 2017) – although he declined to take part in a ten-minute challenge to eat it.
It was all part of the Super Saturday event in Yeovil town centre which had a dinosaur theme with an animatronic T-Rex wandering around St John's Church green.
At 8ft high and 17ft long the T-Rex was easy to see and the team at the Cow & Apple restaurant, which looks out over the church, knew they had to put on something big to cater for his large appetite.
The Gigantasauras Burger consisted of four beef patties with cheese on each, bacon, onion rings, pulled pork with fries on the side.
And Cow & Apple team challenged people to scoff the burger in under ten minutes and win a free pint of cider to wash it down.
The Mayor, Cllr Shutler, who was at the Super Saturday event throughout the day with his wife, Anna, could not help but take a closer look at the Gigantasauras.
But when asked if he wanted to have a go at eating the calorie-busting burger he declined.
"My body is my temple," he said, although admittedly he had only just eaten a more modestly-sized burger and chips at Cow & Apple for lunch.
But waste not want not and cometh the hour and cometh the man – step forward Aaron Green who made it look easy by destroying the Gigantasauras in nine minutes and 42 seconds.
PHOTO - TOP: The Mayor of Yeovil, Cllr Darren Shutler, with the Gigantasauras Burger along with the Cow & Apple's Billy Edmonds and Sarah Hunt.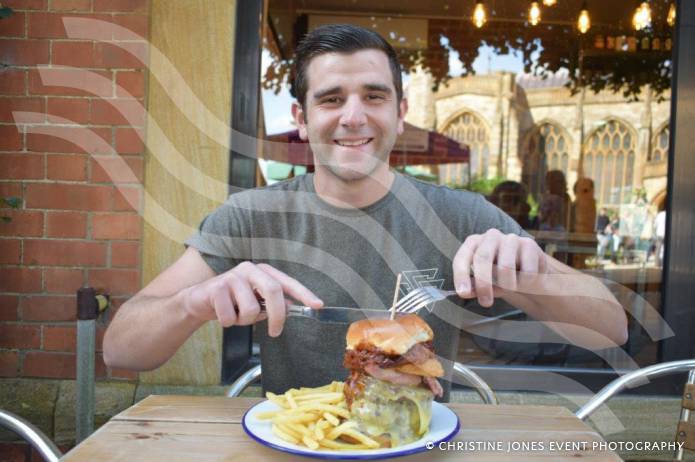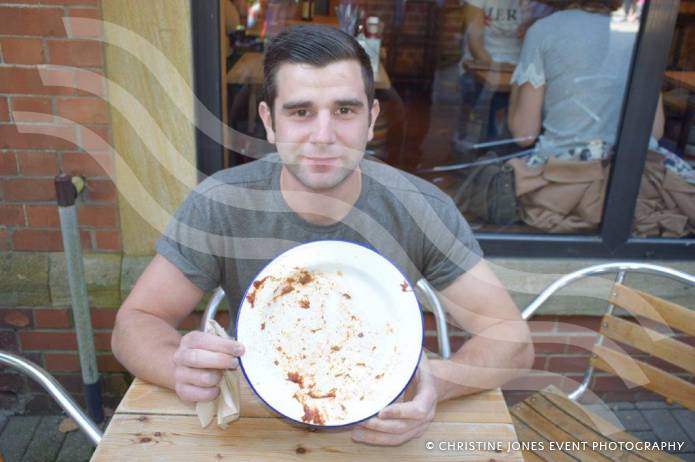 PHOTOS - ABOVE: But it took Aaron Green less than ten minutes to scoff the lot! No problems!
Tags:
News.