BUSINESS: Last of the Summer Lunch with Yeovil Chamber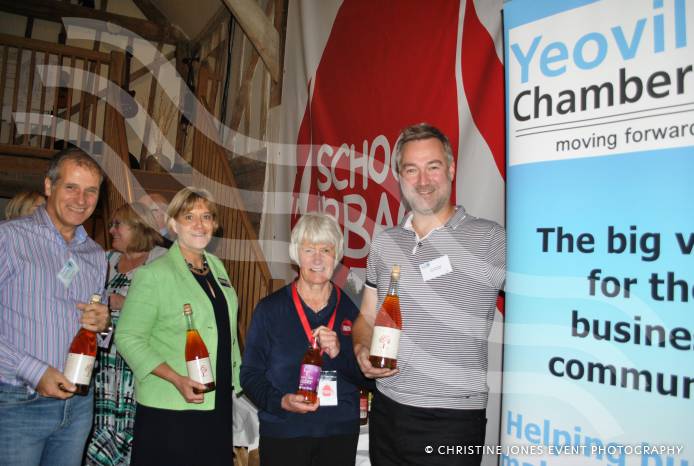 MEMBERS and guests of the Yeovil Chamber of Trade got together on Friday (September 15, 2017) to enjoy a Last of the Summer Lunch.
The event took place at Home Farm in Chilthorne Domer – headquarters of the Piers Simon Appeal and its School in a Bag initiative.
Zoe Fox, of School in a Bag, gave a presentation about the history of the charity and its work of delivering rucksacks full of stationery and resources to poor, orphan, vulnerable and disaster affected children around the globe.
School in a Bag's Lis Foy was on hand to help some of the Chamber members actually pack a schoolbag which will be destined to support a child somewhere in the world.
Chris Worledge, of award-winning Ham Hill Cider, was also present at the lunch and he gave an interesting and amusing talk about the traditional Somerset drink and took people on a greatly enjoyed tasting session.
Ham Hill Cider recently took the gold award at the Somerset Cider Championships held at the Mid-Somerset Show in August for its naturally sparkling Long Barrel Keeved cider, while the same tasty drop took silver at the British Cider Championships at this year's Royal Bath and West Show.
Dave Woan, president of the Yeovil Chamber of Trade, thanked everyone at School in a Bag for hosting the event and to Chris for his Ham Hill Cider tasting.
He also thanked Porter Dodson for sponsoring the Last of the Summer Lunch and to No 5 Catering for the meal.
PHOTO – TOP: Pictured (from left) are Yeovil Chamber of Trade president Dave Woan, Cathryn Smith of lunch sponsors Porter Dodson, Lis Foy of School in a Bag and Ham Hill Cider's Chris Worledge.
Tags:
Market Place.