GLOVERS NEWS: Three new board members elected onto Glovers Trust

THE Glovers Trust supporters' group has announced that three members – Ryan Blatchford, Rod Jones and Dean Mountain - have been elected onto its board.
They will join existing board members Brendon Owen, Simon Brimble, Stuart Burrell and Andrew Richardson and will bring their own "unique skills and experience" to the Trust.
A Trust spokesman said that an election was due to be held, but as there were more places on the board available than nominations received there was now no need for a ballot to decide who would be elected following the group's annual meeting in October 2017.
"We are naturally disappointed that the full democratic process of electing new members to the board via voting has not been possible," said the spokesman.
"Healthy competition for places is always a more preferable outcome but the Trust will continue to grow and we are confident that the three new board members will help to make the Trust stronger."
The new members will shortly be integrated with the existing board members and will collectively discuss the plans and approach for the coming year.
"As always feedback from Trust members is invaluable so please communicate with your Board via Twitter, Facebook, email or face to face in the marquee bar at Huish Park and The Arrow pub on home match days," added the spokesman.
As Dean Mountain was the Trust's secretary there is now a vacancy for somebody to take on that role.
Anyone interested in volunteering for this role or would like more details then please contact the Trust via communications@glovers-trust.co.uk.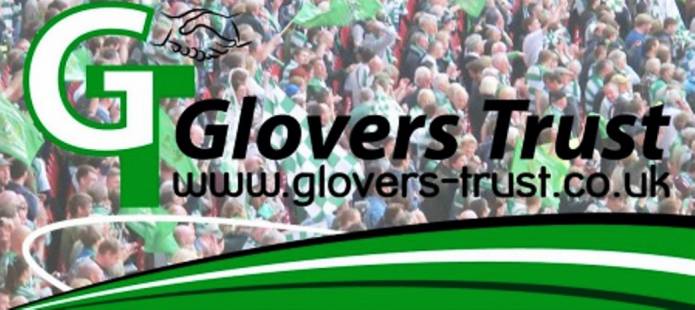 YEOVIL Town coverage is sponsored on this website by the Glovers Trust.  The Yeovil Town Supporters' Society Ltd – known as the Glovers Trust – is a democratic, not for profit organisation, committed to giving supporters a strong unified voice in the decision making process at Yeovil Town FC and strengthening the links between the club and the community that it serves.
Adult membership to join the Glovers Trust is just £10 per year, while it is just £1 per year for those aged Under-16; and £100 per year for a corporate membership.
For more details – go to the Glovers' Trust website at http://www.glovers-trust.co.uk/ .
Tags:
Yeovil Town FC.