YEOVILTON LIFE: Amy chalks up 1,000 flying hours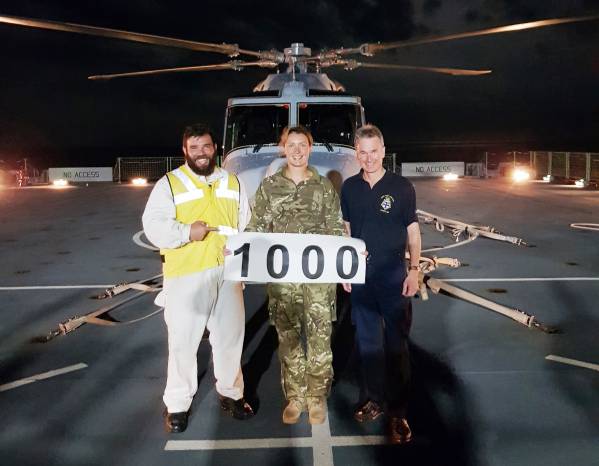 A NIGHT-TIME celebration in the Caribbean marked a milestone in the career of helicopter commander Lieutenant Amy Gilmore of the Royal Naval Air Station Yeovilton.
The Flight Commander and observer of the Wildcat helicopter currently with RFA Mounts Bay passed 1,000 flying hours in the service of her country.
Lt Gilmore is in charge of the helicopter and the team of mechanics, technicians and controllers who look after the Wildcat when on board and monitor and guide sorties when airborne.
She originally joined the Royal Navy as a warfare officer, before switching to the Fleet Air Arm in 2013.
After completing her observer training, she notched up more than 700 hours in the Wildcat's predecessor, Lynx, including a lengthy deployment to the South Atlantic with HMS Dragon and then converted to the new helicopter.
"It's a real privilege to have been able to fly these fantastic aircraft over the last six years and 1,000 hours is a very special achievement to me," she said.
"I'm pleased I've managed to clock it up whilst at sea on a great ship, on an operational deployment, doing what we do best."
The Wildcat - normally based at 815 Naval Air Squadron in Yeovilton - has been called on repeatedly in the short time it has been with Mounts Bay, helping police in the British Virgin Islands and Montserrat to locate nearly 30 illegal cannabis plantations, and surveying the abandoned town of Plymouth for authorities on the latter island; it was ravaged by a volcanic eruption two decades ago and has been a ghost town ever since.
PHOTO: Lieutenant Amy Gilmore celebrates her 1,000 flying hours with colleagues.
Tags:
News.