YEOVIL NEWS: Yeovil Show raffle coins in the cash for care home – thanks to Southern Conservatories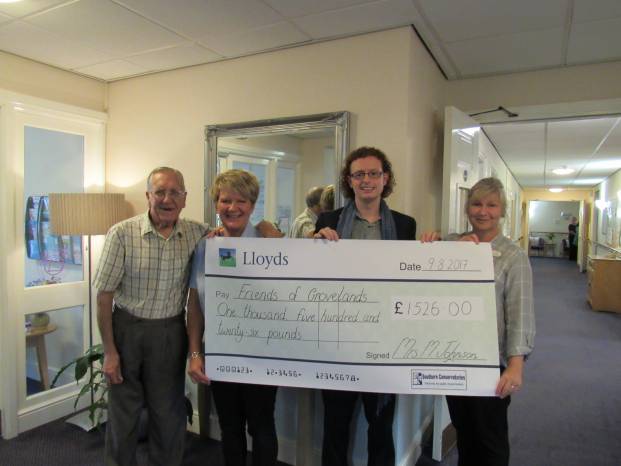 THE team at Southern Conservatories Ltd have raised a staggering £1,526 for a local care home in Yeovil.
The money was raised as a result of a raffle, the prize for which was a stunning conservatory worth £8,000. 
Raffle tickets were sold for £1 to visitors to the Yeovil Show in July at which Southern Conservatories was a title sponsor.
The winner of the state-of-the-art conservatory has already been notified and is looking forward to having their brand new conservatory installed by the Southern Conservatories team in October.  
The initiative to raise money for the Grovelands care home in Grove Avenue, Yeovil, was spearheaded by Mandy Johnson, who is co-owner, along with her husband Adrian, of Southern Conservatories based in North Perrott.
Grovelands is a specialist dementia care home and has been established in the community for ten years.
Mandy said: "Grovelands is very close to my heart as it is where both my parents currently reside.
"As soon as I walked into Grovelands, I knew it was the best place for mum and dad.  The staff are so welcoming and the atmosphere is calm and relaxed.
"It is a great relief for me to know that two people who are so dear to me, are safe and sound in such professional yet caring hands."
The cheque for £1,526 was handed over to Grovelands manager, Ross Isbell, by Mandy last week.
Ross said: "We are hugely reliant on businesses such as the locally based Southern Conservatories to support us in our mission to be at the forefront of dementia care in our community.
"This money will truly enrich the lives of our residents by helping to fund trips out into the community as well as providing entertainment and activities within the home."
PHOTO: Pictured (from left) are Mandy Johnson's dad Ron Hill, Southern Conservatives Ltd co-owner Mandy Johnson, Grovelands manager Ross Isbell and Grovelands deputy manager Karen Cheshire. 
Tags:
News.