LEISURE: Football inspired weight loss programme has got players on the run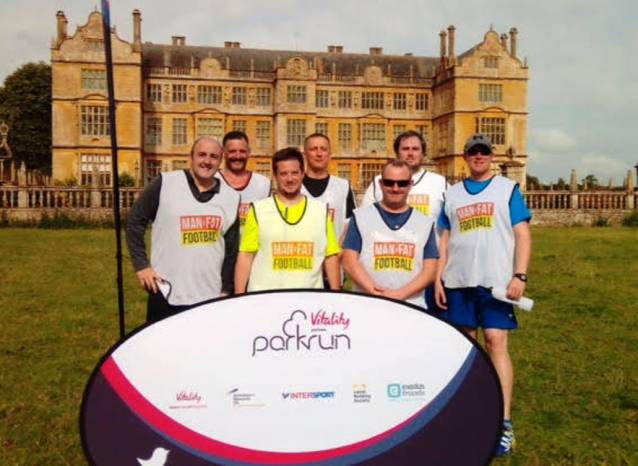 MEMBERS of the Man v Fat Football League in Yeovil joined coach Roger Smith to take part in the Montacute Parkrun event on Saturday (August 26, 2017) – something they all agreed would not have been possible just four months ago.
Simon Pay, Kevin Ayling, Richard Hunter, Roger Smith, Paul Felstead, Craig Woolley and Malcolm Dyke set off along with over 400 other runners to take in the picturesque grounds of the National Trust's Montacute House and completed the run in times ranging from 38 to 53 minutes. 
Man v Fat combines football with easy to follow diet and lifestyle advice as well as 24/7 online and offline support.
There are the traditional weigh-ins before each game, but this is then followed-up by a 30-minute game of six-a-side football. Extra goal bonuses are awarded depending on the pounds lost by the players, so it becomes a real team effort.
The first Man v Fat Football League in Yeovil finished earlier this month with players a losing a combined weight of over 56 stone.
Malcolm, who ended the league with the largest weight loss, losing 18.08% of his starting body weight (3st5lbs) during the 14 week league, said "Man v Fat Football gave me the motivation to deal with my increasing weight and generally poor fitness levels and the support offered from the coach and other players was fantastic."
Paul, who joined in week nine and is looking forward to his first full season, said: "I would strongly recommend any man that is overweight to sign up for the new league and try it for themselves.
"I've made friends not only in my team but across the league and I can't wait to take part in league two."
League coach, Roger Smith, added: "Our leagues give overweight and obese men the chance to lose weight and take part in a six-a-side football league in a completely non-judgemental environment where everyone gets the chance to impact the overall result of the matches through additional weight loss goals.
"The league is open to all ages from 18 and anyone with a BMI of over 27.5 and anyone interested in signing up or finding out more can do so by visiting www.manvfatfootball.org/yeovil."
Roger added: "I look forward to helping as many local men as possible live lighter, fitter, healthier lives."
PHOTO: The Man v Fat team at the Parkrun event held at Montacute House.
Tags:
Leisure.