GCSE RESULTS 2017: Aspirations continue to rise at Buckler's Mead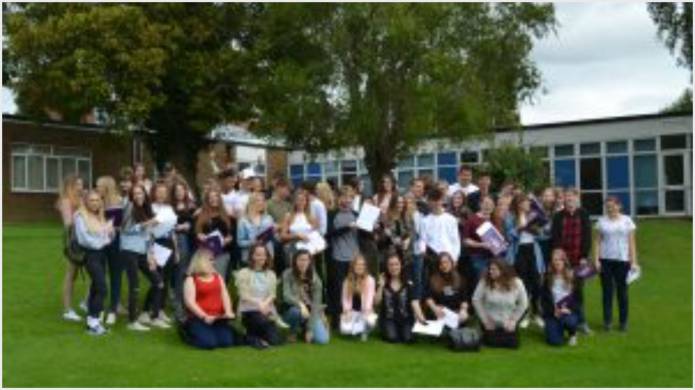 BUCKLER'S Mead Academy in Yeovil was once again celebrating fantastic GCSE results when they were published on Thursday (August 24, 2017).
This has been a year of extreme volatility in results across the country as new harder GCSEs have been introduced, with English and maths now graded at 9-1 rather than A*-G.
Students and staff met this challenge with a huge amount of hard work and dedication, which has paid off in the results achieved.
Top performing students include Rachael Toogood, who secured a Grade 9 in English and an 8 in Maths, along with five A*s, two Starred Distinctions and one A.
Sian Dennett heads off to Kings College Taunton, with a Grade 9 in Maths and an 8 in English along with six Grade A*s and one Starred Distinction, while Bradley Bartlett gained an 8 in both English and Maths accompanied by two A*s, two Starred Distinctions and four As.
Heather Walford gained a 9 in Maths along with one A*, Starred Distinctions and two A grades. Chloe Syme gained the top Grade 9 in English and James Bosley achieved the top grade 9 in maths.
In addition to these outstanding attainment grades, Elizabeth Kemble, Mikolaj Kuskowski, and Izzy Gynn all achieved at least two grades in each subject above the government's expectation, with Rachael Toogood, Adam Nicholson and Joseph Kirkpatrick all achieving at least one and a half grades above the government's expectations.
Headteacher Sara Gorrod said: "Once again Buckler's Mead Academy students continue to do brilliant things, aspirations continue to rise and so too are the high class grades.
"Many students have done incredibly well both in terms of attainment or the progress they have made. This is an extremely tough time for both students and staff with the many government changes but once again all those associated with Buckler's Mead Academy have risen to the challenge."
Tags:
Schools and Colleges.