YEOVIL NEWS: Incredible Bulks and Orange is the New Fat take the honours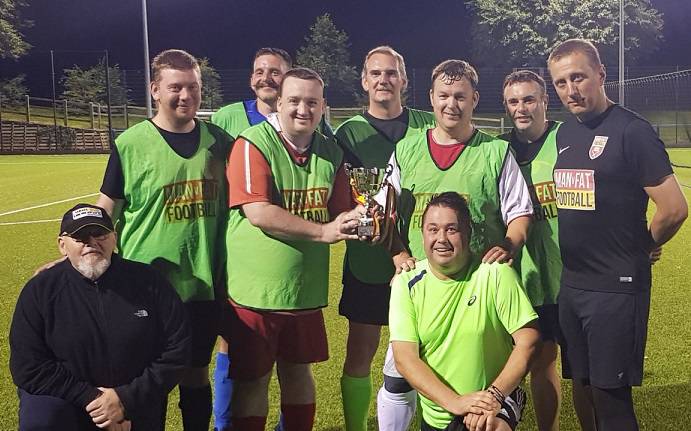 THE players in the first-ever Yeovil football league designed to encourage weight loss have hit the back of the net by shedding a combined total of nearly 360kgs.
The Man v Fat football-themed health campaign was launched nationally by Andrew Shanahan who himself lost five stone and was fed-up with weight loss classes just for women.
Man v Fat combines football with easy to follow diet and lifestyle advice as well as 24/7 online and offline support.
There are the traditional weigh-ins before each game, but this is then followed-up by a 30-minute game of six-a-side football. Extra goal bonuses are awarded depending on the pounds lost by the players, so it becomes a real team effort.
The first season of Yeovil's Man v Fat Football League finished with The Incredible Bulks winning the cup final.
Although The Incredible Bulks lost 4-2 on the pitch, the extra weight loss goals – including a ten per cent and a hat-trick bonus – saw them take the trophy with a 12-8 final score.
The league championship trophy was presented to Orange is the New Fat who actually won the opening ten-week competition by a goal difference of four goals – so once again the weight loss was the deciding factor.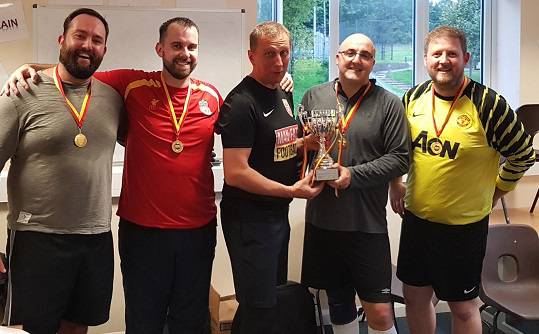 The Yeovil league saw 60 players take part, 95 per cent of whom lost weight during the season, and the total weight loss for the campaign was 356.20kgs (around 56 stone). It meant that each player, on average, lost 5.94kg in the season.
PHOTO - TOP: The Incredible Bulks.
PHOTO - RIGHT: Orange is the New Fat.
The biggest loser – or winner in this sense – was Malcolm Dyke, of Lowcals, who lost 21.60kgs (around 3st 5lbs) which represented 18.08 per cent of his starting body weight.
The average reduction in waist size was 6.21cms with the individual achieving the biggest reduction in waist being Chris Powell, of The Incredible Bulks, with 15.5cms.
The new league starts with the full registration session taking place at Buckler's Mead Leisure Centre in Yeovil on Friday, August 25, 2017, and first matches starting the following week.
Players can join up at www.manvfat.com/football and they can get more information by calling 0845 163 0042 or emailing football@manvfat.com .
Tags:
News.