CLUBS AND SOCIETIES: 1st Yeovil Boys' Brigade works with School in a Bag charity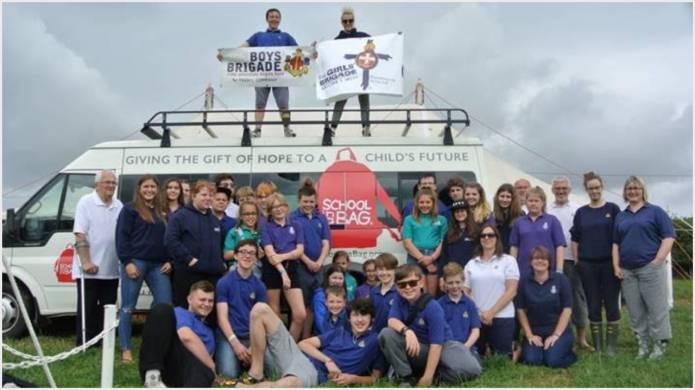 COMMUNITY partnership working together has seen two local charities team-up to help each other.
The 1st Yeovil Boys' Brigade group provided a number of tents and a large marquee for this year's Home Farm Fest fundraiser in aid of the School in a Bag charity at Chilthorne Domer.
And in return the SIAB team lent its minibus to the Boys' Brigade for its annual camp which was held at Corfe.
Darren Lintern, of the 1st Yeovil Boys' Brigade, said: "Both charities are looking forward to a continued relationship with us looking to support the SIAB charity with some fundraising through the year."
A collection at the Boys' Brigade's Sunday service at its camp was dedicated to SIAB and raised enough to provide nine schoolbags.
And Darren said: "Well done boys and girls for giving up your pocket money!"
School in a Bag is part of the Piers Simon Appeal which was formed soon after the Boxing Day Asian Tsunami of 2004 which killed thousands of people including former Preston School and Yeovil College student Piers Simon.
So far more than 80,000 SchoolBags – packed with everyday school essentials such as books, pens, pencils and eating utensils - have been funded with around 77,000 bags having been delivered to help poor, orphan, vulnerable and disaster-affected children throughout the world.
The charity's chief executive officer and founder, Luke Simon, has thanked the 1st Yeovil Boys' Brigade for its fantastic support.
"It is great to work with the Boys' Brigade and long may it continue and a huge thank you to everyone who helps or volunteers at Home Farm Fest which is our biggest fundraiser of the year," he said.
PHOTO – TOP: Members of the 1st Yeovil Boys' Brigade on camp with the School in a Bag minibus.
Tags:
Leisure.