YEOVILTON LIFE: Qualified air engineering technicians spark celebrations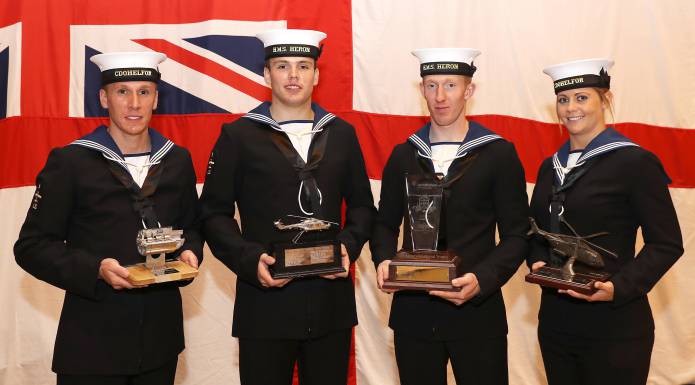 BRIILLIANT young service men and women from RNAS Yeovilton marked the successful completion of their training to become competent Royal Navy air engineering technicians.
This group of 50 exemplary young Royal Navy engineers join the Gained Trained Strength of the Fleet Air Arm.
Commander Al Tracy, Commanding Officer of the Air Engineering Department at Yeovilton, congratulated those qualifying and welcomed their friends and families to the parade.
"It's a real privilege and honour to be stood here today as 28 years ago in August 1989 I was stood in your shoes at my passing out parade, extremely nervous with my parents present amazed at the achievement of their 19 year old baby boy!" he said.
"You have undergone the finest air engineering training system in the world; we deliver first class engineers, second to none."
Passing them for duty and presenting their certificates was the guest of honour, Commodore Nick Tindal, and Commanding Officer of RNAS Yeovilton.
Cdr Tindal, who welcomed all to this proud occasion, added: "Welcome to the premier Fleet Air Arm at this very proud moment in your lives, our aviators place their lives in your hands every day."
During the Phase 2b 55-week course these competent trainees undergo eight weeks of classroom instruction on mechanical and avionic systems, common practices and documentation processes for helicopters. The remaining time is spent on a training squadron where they are introduced to helicopter operations and maintenance practices.
In addressing the students' families Cdre Tindal  thanked everyone present: "The success of these young men and women is in no small part thanks to the support of their friends and families.Thank you.
"Let us not forget the staff whose training allows them to stand here today.  As fully qualified AETs you enter the Fleet Air Arm at a very busy time in defence as we welcome HMS Queen Elizabeth later his year and HMS Prince of Wales the second of the new QE class aircraft carrier, the future flagships of the nation."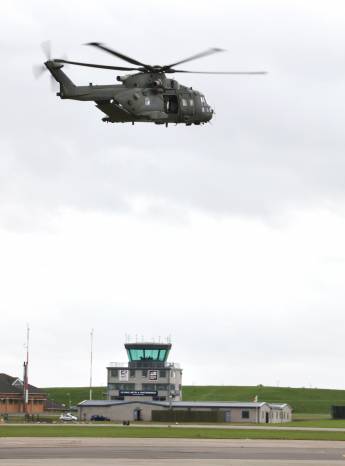 PHOTO - TOP: Award winning air engineering technicians Dan Styles, Harry Clow, Michael Cockerill and Anna Barrett.
PHOTO - RIGHT: Merlin - one of the aircraft types some of the air engineering technicians will maintain.
Cdre Tindal presented each student with their certificates, amongst which were four individuals recognised for their achievements and qualities.
Traditionally awardees are not informed until the presentation and the award and recognition of these awards is an important marker in the career of the individual – recognised throughout the Royal Naval service.
The CHF Academic Trophy, sponsored by SAFRAN Helicopter Engines UK, is presented to the student who has achieved the best results during their training.
The recipient, AET Dan Styles said: "I feel brilliant. Very proud. Today sees the end of a lot of hard work and the beginning of my RN career, I am excited."
AET Harry Clow, winner of the WMF (Wildcat Maritime Force) for his enthusiasm, willingness, skill of hand award, said: "We knew about the awards but obviously not who would be awarded. I'm over the moon."
The Ethos Awards are presented for spirit, loyalty, respect, sense of humour and determination during training and the CHF Ethos award was presented to AET Anna Barrett.
AET Anna Barrett finished her Qualified Maintainers training three weeks early so she could represent the Royal Navy at Netball and at the parade she could hardly contain her delight.
"It's a lovely surprise, I'm over whelmed I wasn't expecting this at all and I'm shocked! I've enjoyed it all so far and now it's my opportunity to have a great career and travel the globe, I hope," she said.
The final award was the AgustaWestland Trophy which is awarded to the Wildcat Trainee who has achieved the highest all round academic results in Phase 2b training.
The winner AET Michael Cockerill, who although slightly shocked at his unexpected award, said: "I'm speechless but very pleased and proud to receive this award."
On completion of the parade and awards the happy, relieved and smiling newly qualified AET's joined their families, instructors and industry guests to celebrate their success and achievements over lunch.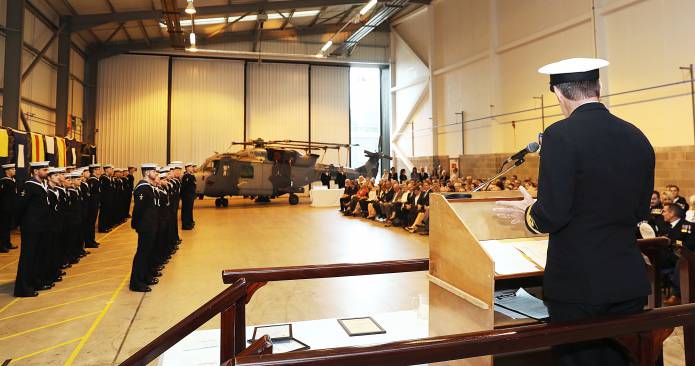 PHOTO - ABOVE: Phase 2b on parade with a Wildcat helicopter in the background and Cdre Nick Tindal addressing.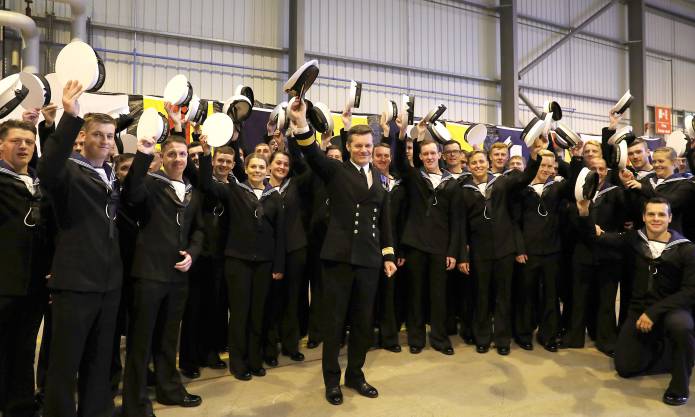 PHOTO - ABOVE: Cdre Nick Tindal welcomes the air engineering technicians into the Fleet Air Arm family.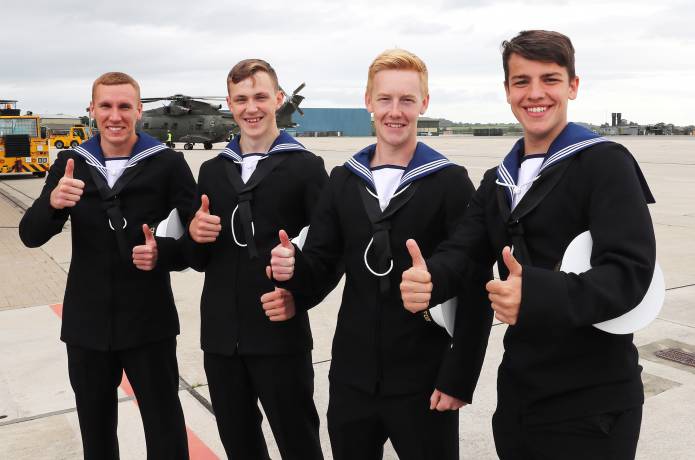 PHOTO - ABOVE: Thumbs up from air engineering technicians Dan Styles, Adam Caine, Jamie Slater and Kavahn Cronin.
Tags:
News.