LEISURE: Bertha's Revenge and Wicked Wolf – all part of the Somerset Gin Festival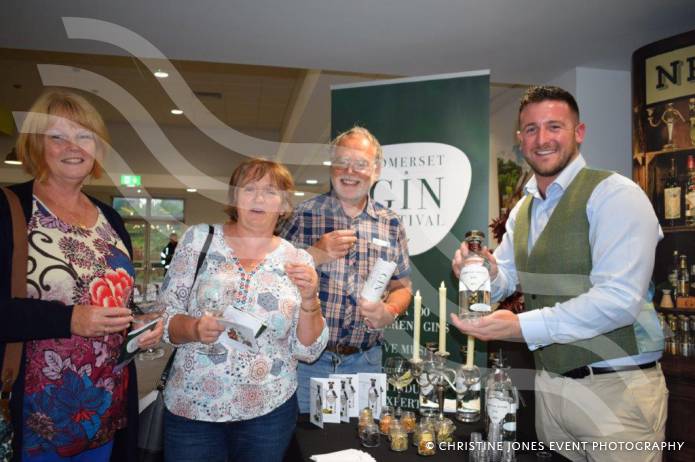 ORGANISERS of the Somerset Gin Festival at the Westlands Yeovil entertainment venue would like to thank everyone who attended the two-day event.
There was an array of 100 different gins for people to try from on Friday (July 21, 2017) evening and all day Saturday (July 22, 2017) with some great sounding names such as Mombasa Club Strawberry Gin, Bertha's Revenge Gin, Berliner Brandstifter Gin, Wicked Wolf Gin and Tarquin's Seadog Dry Gin.
Main sponsors for the festival were Newton House Gin – produced at Newton House at Newton Surmaville near Yeovil.
The gin was originally created in Hermione, a ten-litre copper still, and after much testing and many errors the unique recipe was finally agreed and Newton House Gin was born.
The gin is now distilled in Henrietta, a 60-litre copper still, located next to Hermione, in the old dairy of Newton House.
Robin and Jane Cannon purchased Newton House and 60 acres of gardens and grounds in 2007 and have spent the past ten years restoring the property and estate.
Jake Merrick-Wren, from Newton House Gin, was on hand over the gin festival to speak with visitors and give demos and talks about the history of gin.
Other gin experts at the festival were Nick Masters, of Hawthorns Gin, and Paul Mills, of Siderit Gins, who were able to answer – hopefully – plenty of gin-related questions thrown at them.
Festival-goers were also able to enjoy some great food and live music during the weekend.
Many of the gins had interesting stories behind them. Plymouth Navy Strength Gin, which was one of the strongest to try at ABV 57 per cent, is so strong that it can be spilled on gunpowder and still light.
As gin – a common Navy drink – was often stored back in the day next to the gunpowder, the Royal Navy had to ensure that even if the gin was spilt over the gunpowder it would still light.
It must have been explosive stuff!
PHOTO – TOP: Jake Merrick-Wren (right), of Newton House Gin, who were the main sponsors of the Somerset Gin Festival, with some of the visitors at the Westlands Yeovil venue on Friday (July 21, 2017) evening. Photo: Christine Jones.
Tags:
Leisure.