YEOVIL NEWS: Win a helicopter flight and raise funds for School in a Bag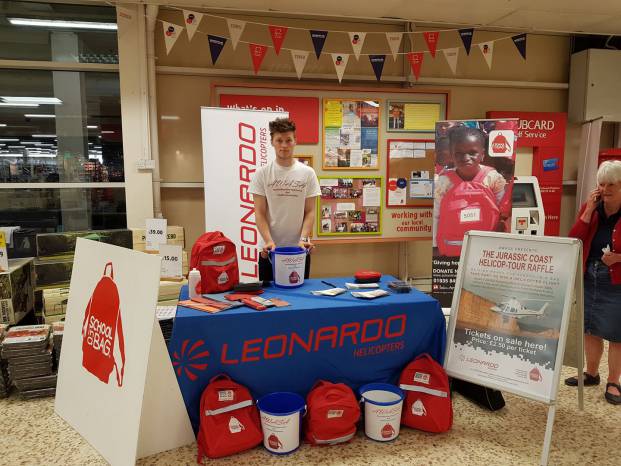 THE AgustaWestland Apprentice and Student Association, better known as AWASA, is raising money for School in a Bag as its chosen charity of the year and is giving people the chance to win an amazing flight in a helicopter.
As part of the group's fundraising it is holding a raffle for somebody to win a ride for two in a helicopter along the Jurassic Coast – courtesy of Leonardo Helicopters, which was previously known as AgustaWestland.
Tickets are priced £2.50 and available from the Quicksilver Mail, Coopers Mill, Beehive Inn and Mortimers Bakeries in Yeovil.
They are also available at the main Tesco Extra Yeovil store in town on Friday, June 16, 2017, and Saturday, June 17, 2017.
A special stand is at the main entrance to the store up until 6pm on Friday (June 16, 2017) and then from 10.30am to 6pm on Saturday (June 17, 2017).
The tickets will also be available at the Yeovilton Air Day on Saturday, July 8, 2017.
The School in a Bag initiative provides – what it says on the tin – a schoolbag packed full of everyday school equipment and eating utensils to thousands of children around the globe in poverty-stricken and disaster-affected countries.
The initiative is part of the Piers Simon Appeal which was first formed in early 2005 in memory of former Preston School and Yeovil College student Piers Simon who was killed in the Boxing Day Asian Tsunami of 2004.
PHOTO – TOP: The AWASA stand at the main Tesco Extra store in Yeovil.
Tags:
News.