SCHOOL NEWS: Tesco Yeovil store supports village school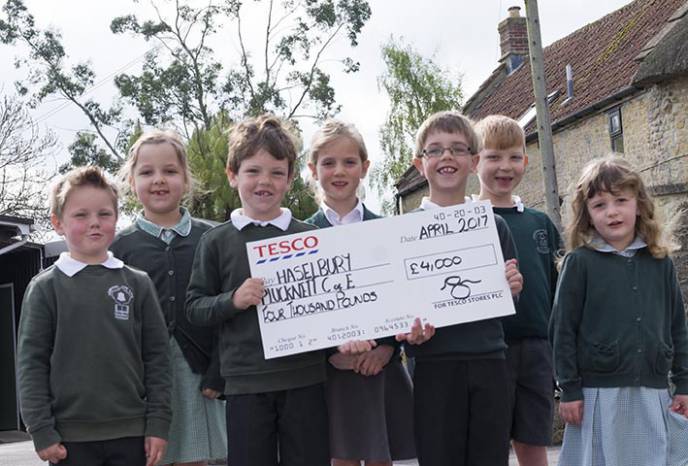 A VILLAGE school in South Somerset desperately in need of redecoration is receiving a major facelift - thanks to the Tesco Extra supermarket store in Yeovil. 
The help for Haselbury Plucknett Church of England First School is part of the Tesco Extra store's commitment to help the local community.
Colleagues from the store on Queensway, Yeovil, went into the school to paint their Catkins building and staffroom.
Store manager Stuart Edginton and customer experience manager Gayle Williams also visited the school on North Street to hand over a cheque for £4,000 to help with the redecoration project.
Mr Edginton said: "Whilst we are dedicated and focused on serving our customers and enhancing their shopping experience in our store, we are also keen to engage with and help to support our local community.
"Haselbury Plucknett is a great school and we are delighted to be helping to redecorate it and give it a new look. Colleagues were keen to roll up their sleeves and get stuck in."
School headteacher Philip Smith said: "The redecoration project is aimed at giving the school some much-needed TLC.
"The parents and community have rallied round to help and we are extremely grateful to Tesco for getting involved and for the wonderful donation.
"It marks the start of a bigger school development and improvement plan, which will see a new pre-school opening in September 2017."
PHOTO: Haselbury Plucknett First School receiving a cheque donation from Tesco Yeovil with pupils (from left) James, Isabel, Ben, Sophie, George, Alfred and Liza.
Tags:
Schools and Colleges.