GENERAL ELECTION 2017: Yeovil Constituency – Live Blog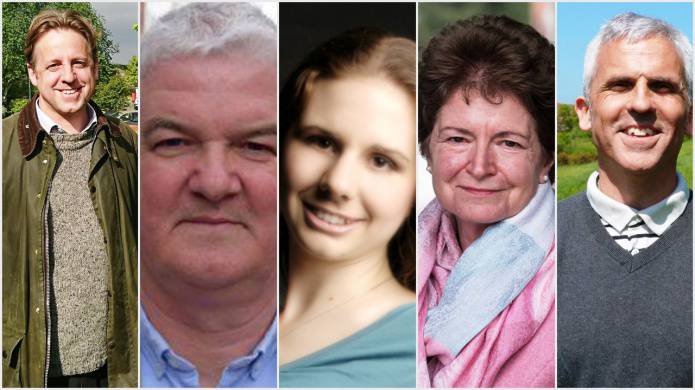 FOLLOW the count in the battle for the Yeovil Constituency in the General Election 2017 with our LIVE BLOG.
The Yeovil Constituency candidates in alphabetical order are as follows: Marcus John Hudson FYSH, Conservative Party; Ian James MARTIN, Labour Party; Katy PRITCHARD, Independent; Jo ROUNDELL GREENE, Liberal Democrats; Robert Charles WOOD, Green Party.
The 2015 General Election result in the Yeovil Constituency was as follows: 1 Marcus Fysh, Conservative Party, 24,158; 2 David Laws, Liberal Democrats, 18,865; 3 Simon Smedley, UKIP, 7,646; 4 Sheena King, Labour Party, 4,053; 5 Emily McIvor, Green Party, 2,191.
PHOTO – TOP: The five candidates (from left) are Marcus Fysh, Ian Martin, Katy Pritchard, Jo Roundell Greene and Robert Wood.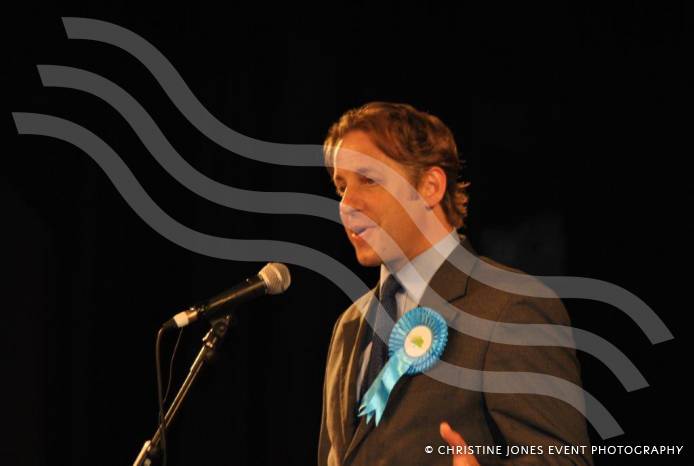 PHOTO - ABOVE: Victorious candidate Marcus Fysh.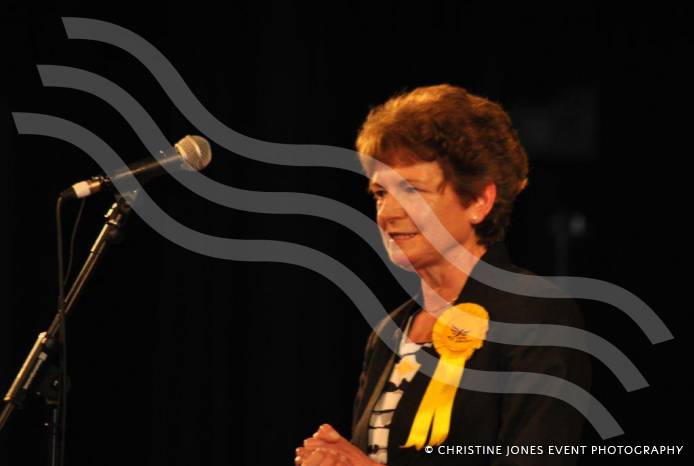 PHOTO - ABOVE: Runner-up - Liberal Democrat candidate Jo Roundell Greene.
2.15am: But the biggest smile of all on the night – even bigger than the one worn by Marcus Fysh – was independent candidate Katy Pritchard who polled just 919 votes but was thrilled at being involved in the political race and getting people interested in politics.
2.14am: Defeated candidates Ian Martin (Labour), Katy Pritchard (independent) and Robert Wood (Green Party) all congratulated Marcus Fysh on his victory and thanked the people who had voted for them. 
2.13am: Defeated Liberal Democrat candidate Jo Roundell Greene congratulated Mr Fysh on his victory and thanked her own "fantastic team" for their efforts. She had only come into the election fray at the 11th hour following the withdrawal of previous LibDem candidate Daisy Benson and said it had been an "exciting and stimulating" experience. Mrs Roundell Greene said she would return to her other role as a member of South Somerset District Council.
2.12am: Marcus Fysh said he would like to thank all of his election team and with special love and thanks to his wife Jenny and their two young daughters.
2.11am: Marcus Fysh said: "It's a crucial time for our country."
2.09am: Victorious candidate Marcus Fysh said he would like to thank the "good people of the Yeovil Constituency" who voted for him and the "good people of the Yeovil Constituency" who did not." He said he would represent all of the people of the constituency regardless of whether they were Conservative backers or not.
2.07am: There is a strange feeling around the Westlands Yeovil venue. While the Conservatives are thrilled at seeing their winning candidate Marcus Fysh victorious once again and by a whopping 14,723 votes; the Liberal Democrats are shell-shocked albeit trying to keep a stiff upper lip.
1.53am: YEOVIL CONSTITUENCY RESULT: 1 Marcus Fysh (Conservative) 32,369; 2 Jo Roundell Greene (Liberal Democrat) 17,646; 3 Ian Martin (Labour) 7,418; 4 Robert Wood (Green Party) 1,052; 5 Katy Pritchard (Independent) 919.
1.32am: While triumphant Marcus Fysh is looking delighted at his impressive victory – the Liberal Democrats look as if they have been hit by a sledgehammer, totally dejected. But already I have heard LibDem supporters saying they will be back to fight another day.
1.31am: It looks very much as if the UKIP supporters of 2015 (of which there were 7,646 of them in the Yeovil Constituency) have gone with the Conservative candidate Marcus Fysh. Brexit has played a major part in this election result.
1.26am: Conservative candidate Marcus Fysh can relax. He will retain the Yeovil Constituency seat – no doubt about it. And he has beaten his main rival, the Liberal Democrats' Jo Roundell Greene, in convincing style. It won't be long before the result is confirmed – but Yeovil will be staying in Conservative control at Westminster.
1.13am: One Conservative supporter – looking at the votes stacking up for the Tories in Yeovil – said she thought she was seeing double in comparison to the LibDem votes.
1.12am: Marcus Fysh, the Conservative candidate, who is set to retain the Yeovil Constituency – at present – has arrived at the count.
1.12am: The returning officer has announced that a total of 63,996 votes were cast in the Somerton & Frome Constituency – an amazing turnout of 75.79 per cent.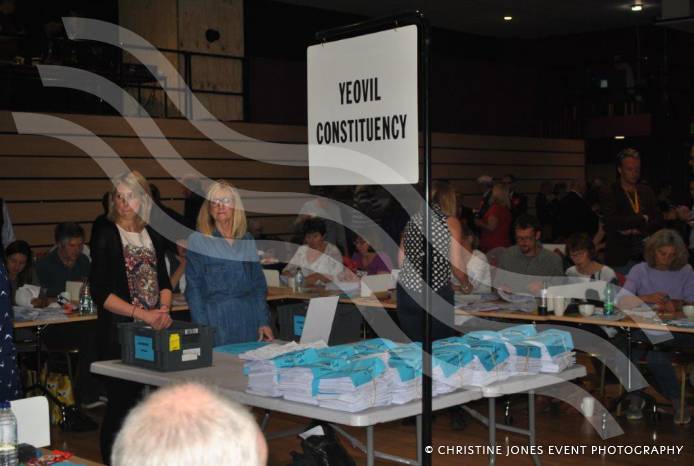 PHOTO – ABOVE: The votes are piling up for Conservative candidate Marcus Fysh.
00.56am: At present – I've just had a quick count up – it looks so far like Conservative candidate Marcus Fysh has 15,000 votes on the board as opposed to just 7,000 for Jo Roundell Greene of the Liberal Democrats. It doesn't look as if it is going to be close at all. 
00.55am: It really isn't looking good for the Liberal Democrats here. They arrived full of hope and optimism, but the blocks of 1,000-votes do not lie – and there are a lot more blue blocks going down than yellow ones. 
00.54am: It has been confirmed by the returning officer that we could have a result as early as 1.30am here in Yeovil.
00.31am: A quick look around the tables and it is difficult to determine who is in the driving seat here. You go to one counter and there seems to plenty of votes going down for Conservative candidate Marcus Fysh and then you look to the person next door and they seem to be having a flurry of Jo Roundell Greene votes for the LibDems. I might be wide of the mark – but I reckon it's going to be close. (But I was thinking that as soon as the Prime Minister called the snap election!)
00.29am: Liberal Democrat candidate Jo Roundell Greene is in the building and full of smiles. Scenting victory or nerves setting in?
00.17am: Green Party candidate Robert Wood is in the house and looking-on as the counting of 59,498 votes in the Yeovil Constituency begins. Exciting times!
00.08am: The returning officer has announced that the number of votes cast in the Yeovil Constituency amounted to 59,498 – a 71.06 per cent turnout.
00.03am: The Westlands Yeovil cat has been seen wandering about which caused great excitement among those people here present. Purr-fect!
Midnight: Independent candidate Katy Prichard has been here from the off, but not much sign yet of any of the other candidates – I might be wrong.
11.57pm: Apologies for the lack of updates – there hasn't really been much to talk about! Former Yeovil MP and Liberal Democrat leader, Paddy Ashdown, has been prowling about the Westlands Yeovil venue like a tiger. There appear to be smiles from all quarters of the political spectrum here – although that might change once the counting of votes begins and a picture begins to form.
11.53pm: Breaking News – well – sort of. Just been told that the ballot papers for the Yeovil Constituency have been sorted and verified and the actual counting will start in the next 15 minutes. Ok – it's not hold-the-front-page news….but when you have been here for a couple of hours with nothing to report – this is BIG!
11.47pm: It has to be said – fair play to South Somerset District Council for having the vision to take on the Westlands leisure complex and reinvigorate the place. The council has really done a great job and it is great to see arts and entertainments venue manager Adam Burgan, of Westlands Yeovil and Octagon Theatre, here this evening along with his trusted sidekick Sean Welsh. Top notch Wi-Fi here as well – at long last!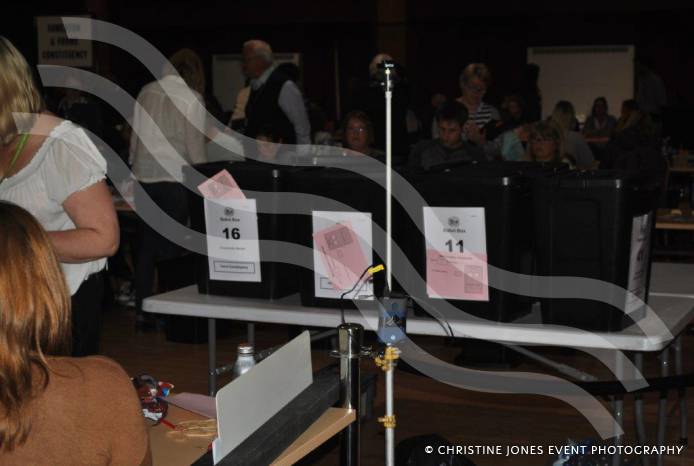 PHOTO – ABOVE: Just some of the ballot boxes which have returned from the Yeovil Constituency.
11.35pm: All the ballot boxes from the 150 polling stations in the Yeovil Constituency have been safely delivered to the Westlands Yeovil venue. Congratulations to the polling station staff on a job well done.
11.29pm: The candidates are all well-represented here by their supporters – some wearing their party colours. Many of them are wandering around with clipboards looking over the shoulders of the counting staff and making notes. No idea – why? Apparently they are trying to count the votes to gauge some sort of idea as to how the voting is going.
11.01pm: It only seems like yesterday when we were here last – a lot of familiar faces among the counting team. Oh – hang on. We were here a month ago for the Somerset County Council election results!
10.41pm: This could be classed as the "boring" part of proceedings as ballot boxes arrive and are verified by the election staff.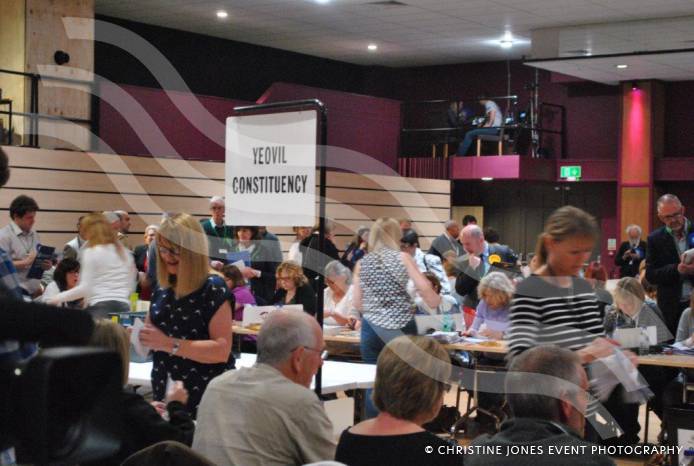 10.18pm: The verifying of the postal votes continues here in the Yeovil Constituency at the Westlands Venue in Yeovil. It should also be noted that the count for the Somerton & Frome Constituency is also being held at the Westlands Venue – so we will keep people informed of that as well.
10.00pm: The polling stations closed and the election staff gathered at Westlands Venue in Yeovil were instructed to start verifying the postal votes. A total of 19,921 postal votes were sent out to voters in the Yeovil Constituency.
Tags:
News.