HOME FARM FEST 2017: The signs are going up – the festival is getting close!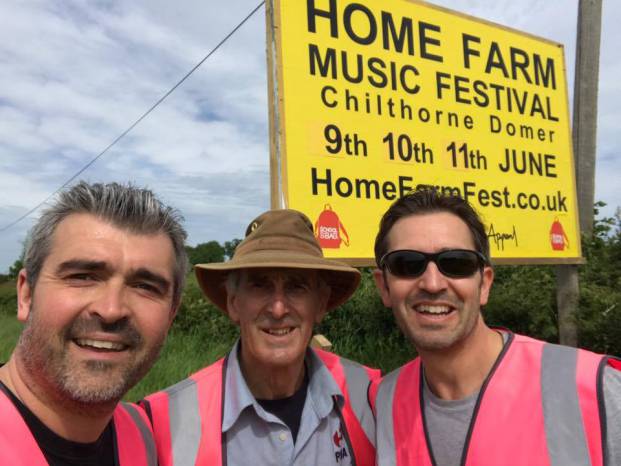 THE advertising signs are going up and it must mean that the annual three-day Home Farm Fest music festival near Yeovil is nearing fast.
The festival is held at Home Farm in Chilthorne Domer and helps to raise money for the School in a Bag initiative which is part of the Piers Simon Appeal.
This year's festival is being held on June 9-11, 2017, and there will be around 100 musical acts taking part over the weekend.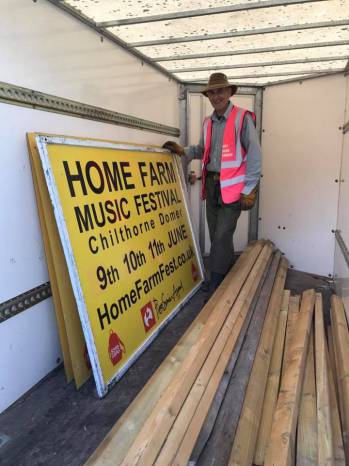 Tickets are priced £45 for a weekender ticket or £15 for Friday, £25 for Saturday and £15 for Sunday. Ticket prices are half-price for those aged between six and 17; and free for children aged 0-5.
Camping and caravanning facilities are available.
For further details and to get more ticket information – go to the Home Farm Fest 2017 website at http://www.schoolinabag.org/homefarmfest/2017/ .
PHOTO – TOP: Putting up the signs are (from left) Ben Seyfried, Henry Simon and Luke Simon.
PHOTO - RIGHT: Henry Simon doing most of the work.
The School in a Bag initiative provides a school bag for children in poor countries around the globe with books, pencils and pens, plus eating and drinking utensils.
The headline acts are as follows:
Friday, June 9, 2017: The Domer – Scoot; The Dutch Barn – Talia Smith; The Folkroom – Michael Garrett & Chumbs; The Lloyd Lounge – Hundred Days.
Saturday, June 10, 2017: The Domer – Crimson on Silver; The Dutch Barn – Snakebyte; The Folkroom – The Butcher by Paul Mosley; The Lloyd Lounge – The Renegades.
Sunday, June 11, 2017: The Domer – Alphabet Backwards; The Dutch Barn – The Rosa Gray Band; The Folkroom – Emma Ballentine; The Lloyd Lounge – Roughcut Blues.
As well as the music there will be plenty of children's activities, refreshments and side stalls and activities for the whole family to enjoy.
The Piers Simon Appeal and its School in a Bag initiative was originally set up in memory of former Preston School and Yeovil College student Piers Simon who was killed in the Boxing Day Asiant Tsunami of 2004.
Tags:
Leisure.