YEOVIL NEWS: What will the Mayor do next?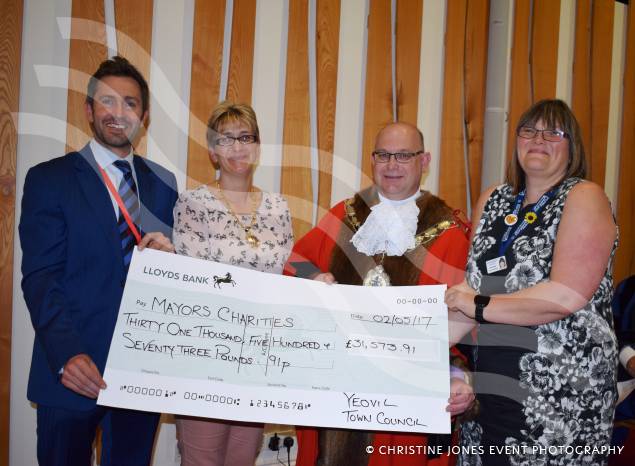 COUNCILLORS are looking ahead with amused trepidation as to what the Mayor of Yeovil will do in his second year in office after an action-packed opening 12 months.
Cllr Darren Shutler, fresh from a 15,000ft skydive for charity, was re-elected to serve for a second year during Yeovil Town Council's Annual Town Meeting on Tuesday (May 2, 2017).
He was nominated for re-election by Cllr Graham Oakes who said that the idea that future Mayors all had to jump out of aeroplanes for charity was "complete insanity."
"They say that the first year of being Mayor is about learning what is expected of you and then the second year is all about enjoying it," he said. "But Darren seems to have already enjoyed the first year – so I wonder what he's got planned and going to get up to in his second year."
But Cllr Oakes said it was an honour to nominate Cllr Shutler for a second term as Mayor as he had become the "face of Yeovil" and doing all he could to paint a "positive image of the town going forward."
Cllr Oakes said he had been impressed that the Mayor and Mayoress, Cllr Shutler and his wife Anna, had looked to "reach out" to people who may not necessarily find themselves attending civic occasions.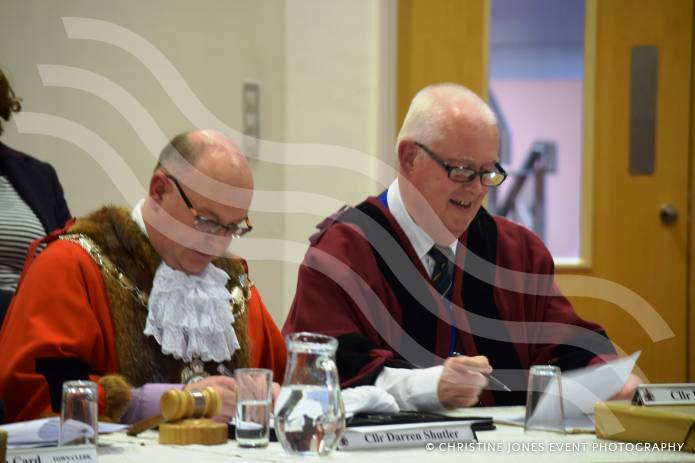 PHOTO - TOP: The Mayor and Mayoress of Yeovil, Cllr Darren Shutler and his wife Anna (centre), with Luke Simon, of School in a Bag, and Julia Poulton, of St Margaret's Somerset Hospice, with the cheque showing his fundraising efforts for 2016-17 of £31,573.91.
PHOTO - RIGHT: The Mayor, Cllr Darren Shutler (left), and the Deputy Mayor, Cllr David Recardo.
The Mayor thanked his fellow councillors and town council staff for their continued support and announced that Jim Pearce would remain as his chaplain for the forthcoming year ahead.
Cllr Shutler also thanked the Deputy Mayor and Mayoress, Cllr David Recardo and his wife Yvonne, who had also been re-elected to serve in the role for another year, for their support.
Kimberley Neville has also been retained as the Mayor's cadet for the next 12 months.
And Cllr Shutler also had special words of appreciation for his wife, Anna, who had been his "rock and backbone."
The Mayor announced he would continue to support the School in a Bag initiative and St Margaret's Somerset Hospice for another year as his chosen charities.
Over the previous 12 months he had raised a staggering £31,573.91 for the two organisations and thanked everyone for their support.
Luke Simon, of School in a Bag, and Julia Poulton, of St Margaret's Somerset Hospice, were on hand to receive their donations from the fundraising efforts of the Mayor's first year in office.
Liz Pike, of the Yeovil Community Arts Association, was presented with the Mayor's Silver Salver award in recognition of her voluntary work within the area.
Tags:
News.