YEOVIL NEWS: Mayor criticised for failing to wear a tie at St Margaret's Hospice fete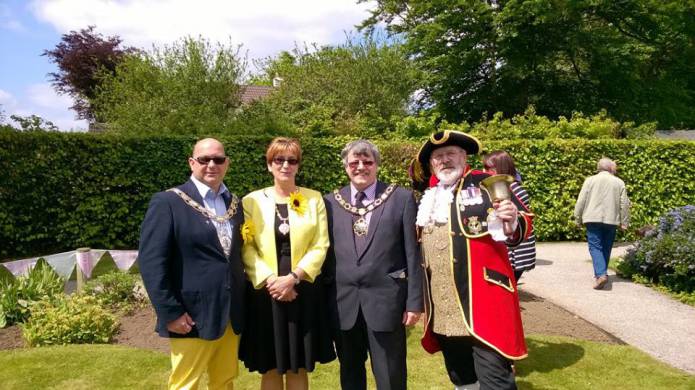 THE Mayor of Yeovil, Cllr Darren Shutler, has been criticised for the "casual wear" he wore while attending a function at St Margaret's Somerset Hospice.
Cllr Shutler and the Mayoress, his wife Anna Shutler, represented Yeovil Town Council at the hospice's annual fete last month on Saturday, May 14, 2016.
The Mayor wore yellow trousers, to represent the hospice charity colour, a blazer, an open necked shirt and the Mayoral chain of office.
But – it appears – that not everybody thought that was befitting attire for the Mayor of Yeovil to wear at a summer event.
A letter will go before Yeovil Town Council's monthly meeting on Tuesday (June 7, 2016) from the hospice's community fundraiser Mark Flower thanking the Mayor and Mayoress for attending the annual fete which raised a fantastic £7,200.
"I had a lot of feedback about how nice it was that you both stayed so long and spent time with the staff, volunteers and patients," said Mr Flower to Cllr Shutler and his wife in the letter.
"I understand that you have come under some criticism for your casual wear and particularly the lack of tie!
"I would say from the hospice point of view you dressed according to our request and our discussion ahead of the fete.
"The day was about family, the patients and the local community. We wanted a relaxed atmosphere and your attire was spot on."
St Margaret's Hospice is one of the Mayor's nominated charities of the year along with the School in a Bag project operated by the Piers Simon Appeal, based at Chilthorne Domer.
PHOTO – TOP: The Mayor of Yeovil, Cllr Darren Shutler (left), with the Mayoress, Anna Shutler, South Somerset District Council chairman Cllr Mike Best and town crier Bruce Trigger at St Margaret's Hospice summer fete in Yeovil.
Tags:
News.