PUB NEWS: Royal Standard pulls out all the stops for charity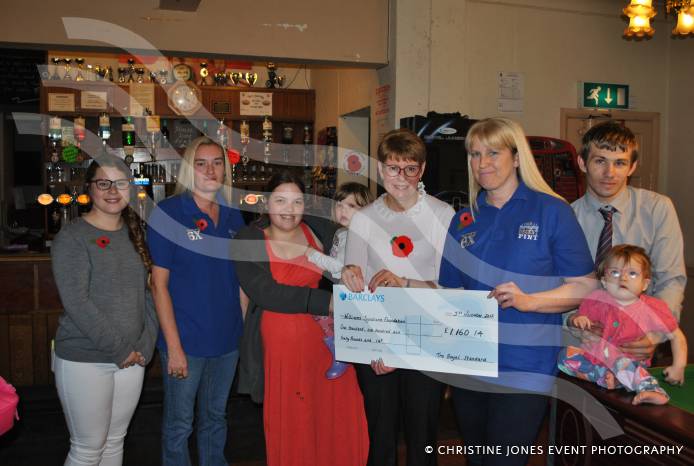 PUB-GOERS at the Royal Standard in Yeovil helped to raise a whopping £1,160.14 for a charity which helps those with a rare disorder.
The money was raised earlier this year with a fun day, barbecue, quiz, stalls and a pool match and the proceeds have now been presented to the Williams Syndrome Foundation.
Williams Syndrome is rare and like Down's Syndrome is caused by an abnormality in chromosomes and shows a wide variation in ability from person to person.
The Standard team presented the proceeds of their efforts to Margaret Gulliver, of the Williams Syndrome Foundation, who visited to the pub in Larkhill Road to thank everyone for their efforts.
Landlady Mel Johnson-Brooks said: "If we could have raised £500 I would have been happy – so to have raised what we did was fantastic.
"I would just like to thank everyone who supported us and hopefully we can raise awareness for this charity."
Margaret said that every penny would help the charity which is run for parents by parents.
Williams Syndrome is non-hereditary and occurs at random and can affect brain development in varying degrees combined with some physical effects or physical problems.
For more details about the Williams Syndrom Foundation – checkout this link: http://www.williams-syndrome.org.uk/index.php .
PHOTO – TOP: Royal Standard landlady Mel Johnson-Brooks (third from right) presents the cheque to Margaret Gulliver, of the Williams Syndrome Foundation, with (from left) Abbie Brooks, Charmaine McGinty, Sophie Stanton and three-year-old Lilly, Aaron Healey and one-year-old Esmae.
Tags:
Pubs.